6 Of The Funniest Britain's Got Talent Judges Moments... Ever!
18 May 2018, 15:31 | Updated: 10 October 2018, 13:30
Promoted by ITV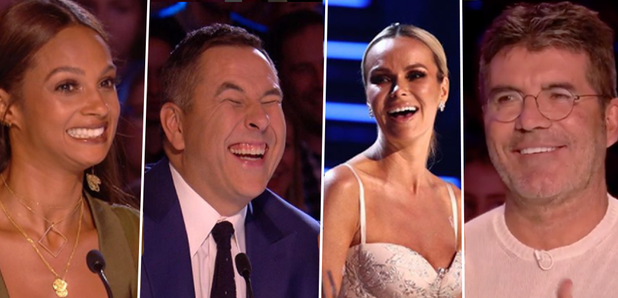 There have been some truly iconic moments on Britain's Got Talent throughout the years, but here are a few of the most hilarious judges moments from the show.
The many acts of Britain's Got Talent provide entertainment for the whole nation, but sometimes its the judges that steal the show with their hilarious antics on the panel. From Simon Cowell's sassy shutdowns to Amanda Holden's signature move we all know and love, and David Walliams', well, we'll just let you watch that one for yourself, here are some of the funniest judges moments from across the series'.
Please Say We Get A Plate, Do We Get A Plate?!
We're not sure what was in the air that day, but the judges recently went absolutely potty for some plates. They got so excited Amanda Holden even danced a bare footed jig on top of the judging panel whilst Simon sat having a mild existential crisis. All in a days work.
David Walliams Steals The Show With This Classic Move
Often known for being a shy and retiring individual, everyone was pretty surprised when David Walliams jumped onto the panel and swiftly pulled his trousers down. We are of course kidding, this was not in the slightest bit surprising and honestly are ashamed we didn't see it coming to begin with. Nevertheless, it still left Simon with his head in his hands. Hey, you hired him.
Simon Cowell Can't Handle Graham The Organ Man's Creepy Smile
When the most likeable contestant possibly ever auditioned with his organ/singing extravaganza, Simon couldn't concentrate on what was going on because of Graham's 'weird smile'. In the end, none of this actually mattered as Simon hated his performance so much, he referred to it as 'like eating vanilla ice cream with sausage'. Not the highest of praise, but definitely one of his more creative insults.
A Contestant Turns The Tables On Simon Cowell In The Most Hilarious Way
Honestly, this needs no comment, just sit back and enjoy Simon like you've never seen him before. Iconic.
The Tender Moment David Danced A Salsa For Simon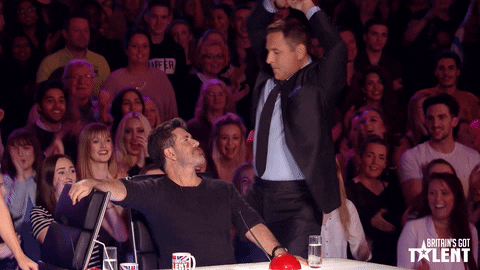 Picture: GIPHY
We couldn't appreciate Simon's seductive arm more if we tried and the look of pure joy on the audience's face behind them. Jeez guys, there's an audition going on and all the crowd are doing is staring at you, sit down!
An Epic Soaking From Amanda Holden
Now, would it even be funniest moments if there wasn't a drink swill from the iconic Amanda Holden? Absolutely not, and after they showed her in a less than glamorous light using an age prediction app, she got out of her chair and went into full attack mode. If you're wondering how old they guessed Simon was? A sprightly 18, that man defies time.
Watch the Britain's Got Talent semi finals, 28th May at 7.30pm on ITV, and continuing every night for the week.