This Prankster Blagged His Way Into The NTAs & We Can't Believe How Far He Got
25 January 2018, 11:28 | Updated: 25 January 2018, 11:35
Lee Marshall pretended to be a presenter and walked straight into the main arena!
YouTube pranksters seem able to blag their way into anywhere these days. From the Celebrity Big Brother house to political speeches by the Prime Minister, nowhere is off limits and Lee Marshall's latest crashing of the National Television Awards is the tip of the iceberg.
Just before the start of the awards show on Tuesday 23rd January, Lee who is known by his online alias Disco Boy, took one of his mates with a fake TV camera and a microphone and was allowed through all security checks and straight into the main arena.
> YouTubers Broke Into The CBB House In The Show's Worst Security Fail Ever

The annual awards show celebrates the best in TV and Lee managed to find his way through the backstage of London's O2 and right up to celebrity dressing rooms including GMB host Piers Morgan and music legend Seal.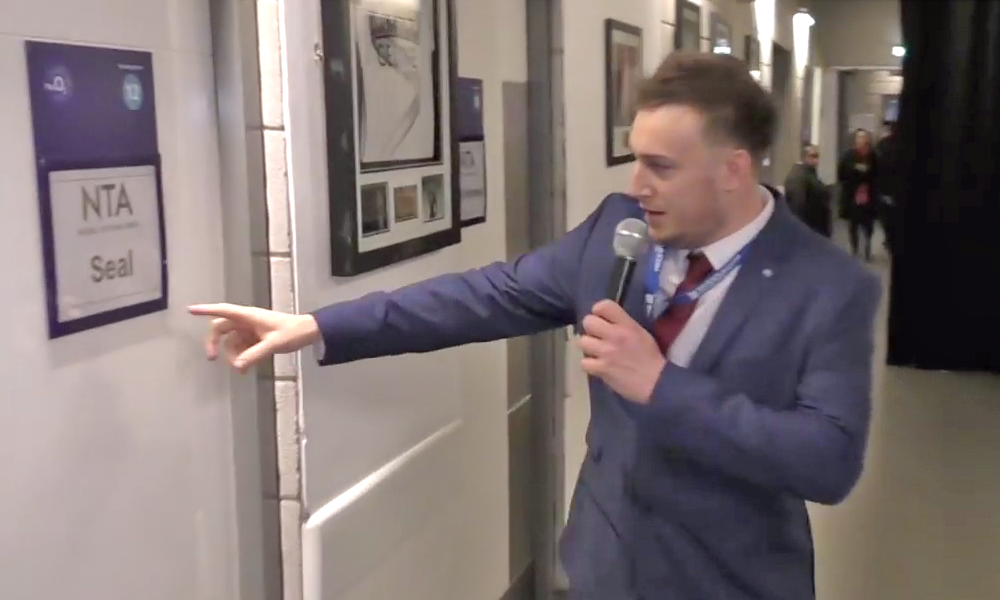 (Pic: YouTube)
Everything came to an end when Lee was spotted by security as he was standing up during the show and he was quickly ejected from the venue.
Speaking to Metro about the stunt, Lee explained "I walked through some room, the press room, but I didn't even know. I was literally making stuff up like I was meant to be there. They're all looking at me like 'who is this geezer?'."
"They could see me doing an interview but I'm just saying into my mic 'I dunno where I am'. I found the names, I found Piers Morgan's dressing room. And watching it back the adrenaline was flowing because I stuttered a lot."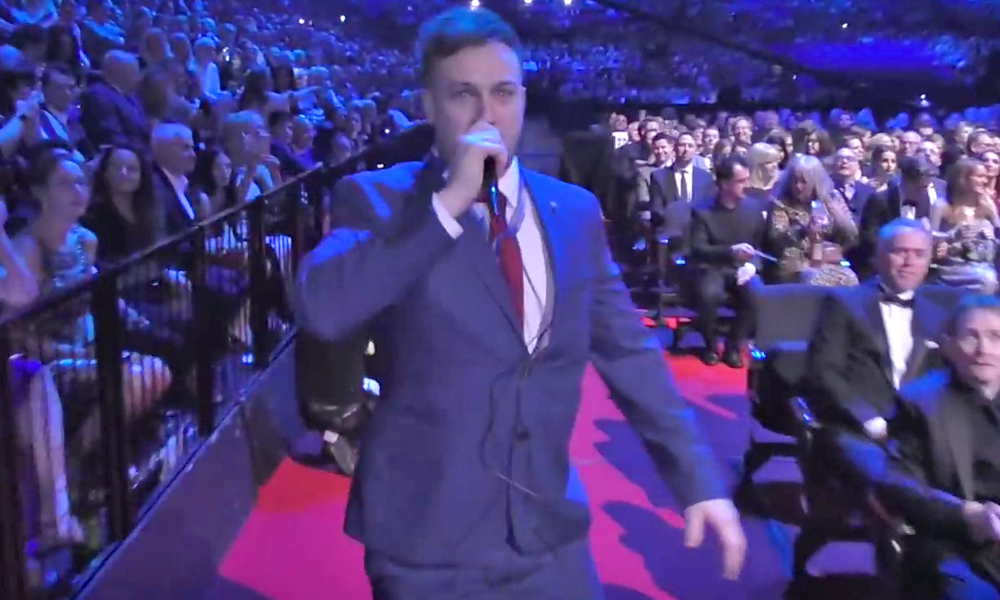 (Pic: YouTube)
The NTAs audience could be seen cheering when Lee walked through with his cameraman and the prankster revealed, "I was in there for a good 20 minutes. I walked past the main bit, the crowd cheered at us because my mate had this big fake camera."
"When we went into the main arena five minutes before it went out, people cheered. They thought they were on TV. Everyone cheered, they cracked me up."
The breach of security will have many people asking just how this has managed to happen yet again and following the reports of Lee's pranks The O2 were forced to release an official statement.
#NTAs2018 had a lovely time at the @TheO2 can't believe they kicked us out what a joke maybe il get tickets in future video coming soon pic.twitter.com/EiciN5Y32u

— DiscoBoy (@DiscoBoyUk) January 23, 2018
Their statement reads: 'There was a large police and security operation in place for the National Television Awards as there is for every event at The O2. Security monitoring occurred across the site, with both visible and covert vetting of guests as they arrived and entered the building.'
'We are aware that an accreditation check was not completed at one of our entrances within the arena itself. This isolated incident is being investigated by our security team and appropriate action will be taken.'
Disco Boy has gained a huge social media following for his pubic stunts, including starting raves in supermarkets and spending the evening in the Queen Elizabth Olympic Swimming Pool in East London. Watch his NTAs prank in full here.
> Download Our Fancy App For All The Latest Celeb News!
Whilst you're here, check out Selena Gomez's epic Virtual Reality prank on a fan...