6 Podcasts To Listen To For Any Netflix Series Lover
17 September 2018, 14:19 | Updated: 29 November 2018, 14:12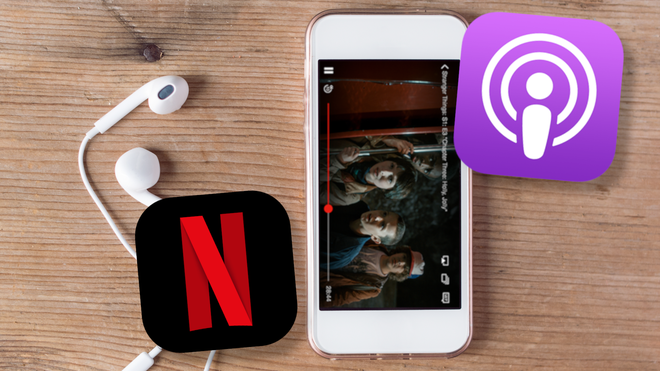 If you're a Netflix addict, and need to take some time away from the screen, these podcasts will help...
If you're not binging on Netflix on the regular, you're a stronger person than us. We're trying to help cure your addiction to the streaming service, with...
Podcasts all about Netflix. That should help, right?
> QUIZ: Tell Us Which Of These Shows You've Finished & We'll Give You Your Netflix BFF
Why Won't You Date Me?

If you have a Netflix subscription, you've binge watched Nailed It! There's no denying it; it's the perfect cure on the morning-after-the-night-before.

And you can now get an extra dose of TV's greatest host, Nicole Byer, as she has her own podcast - Why Won't You Date Me? - where she questions why she hasn't actually got a boyfriend yet.

In every episode, Nicole's joined by a special guest, like fellow Netflix star, Jameela Jamil, to try and find her a man as sweet as the cupcakes she tastes on Nailed It!

Why Won't You Date Me? with Nicole Byer.

Picture: iTunes

The Upside Down Podcast

You may have heard of a little project Netflix made. It goes by the name of Stranger Things. Sisters, Ash and Tori, have now dedicated a podcast entirely to the Netflix Original Series, The Upside Down Podcast.

The girls - who claim to be obsessed with all things Stranger Things - have released a series of episodes, where they relieve and review the show, while interviewing cast members.

This will help fill the Millie Bobby Brown shaped hole in your heart until the third series hits Netflix.

The Upside Down Podcast.

Picture: iTunes

You Can't Make This Up

Remember when Making A Murderer first dropped on Netflix, and you literally had to throw a sickie off of work, because you were too busy getting your detective on to go to work/school?

Unfortunately for your manager, you might have to throw a lot more sickies, as Netflix has released its own podcast - You Can't Make This Up - which delves into a series of Netflix Original true stories, including The Staircase, The Keepers and American Vandal.

You Can't Make This Up discusses just how the filmmakers managed to get so much access to these true crimes, and how they've affected the lives of the subjects.

You Can't Make This Up.

Picture: iTunes

WTF with Marc Maron

Think of your favourite celebrity. Chances are Marc Maron has spoken to them on his podcast, WTF with Marc Maron.

You may recognise Marc from Netflix's GLOW, where he plays Sam Sylvia, but in his podcast, he's not throwing down fists in the ring, but chatting to the likes of Mila Kunis, Jennifer Lawrence and even Barack Obama from inside his garage.

Yeah. He's spoken to all of these celebrities from inside his garage. What have you done?

WTF with Marc Maron.

Picture: iTunes

The Good Place: The Podcast

If you want the DL on Netflix's The Good Place, who better to ask than The Good Place's Marc Evan Jackson, who plays Shawn?

The actor hosts the official comedy podcast for the series, where he not only chats about behind-the-scenes moments, but offers exclusive anecdotes from the cast and crew that wouldn't have been heard anywhere else.

He's also joined by special guests, including actors and writes of the series. This is the good podcast. (Like, The Good Place. Gettit? Sigh.)

The Good Place: The Podcast.

Picture: iTunes

I AM RAPAPORT

You might recognise Michael Rapaport as Gary, Phoebe's ex-boyfriend in Friends, but recently he's appeared in the Netflix Original, Atypical.

The actor has started his own biographical podcast, I AM RAPAPORT, sharing his often-funny, and ocassionally-offensive, views on life, music, sport and everything in between.

And if that's not enough to persuade you, he was in Friends, people!

I AM RAPAPORT.

Picture: iTunes