This Theory About Why Niall Aslam Really Left Love Island Makes Total Sense
19 June 2018, 11:40 | Updated: 19 June 2018, 11:44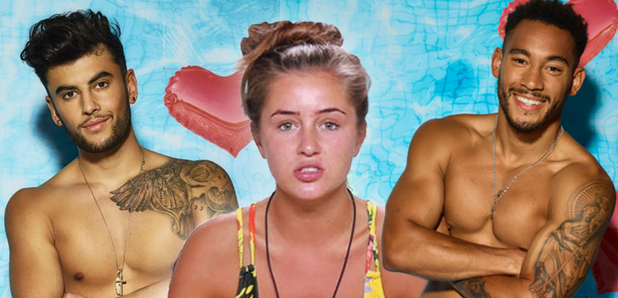 As Niall Aslam left the Love Island villa under pretty mysterious circumstances and 'stress' being the reasoning, fans have pieced together a plausible theory about what actually went down...
The nation was truly shook when Niall Aslam left the Love Island villa without warning, and were even sadder to learn it was due to 'stress' and his wellbeing that he was forced to exit the show only a week into it starting, and leave the other half of his couple- Georgia Steel behind.
Love Island Stars' Secret Saturday Activities Finally Revealed
However, eagle eyed, or rather eagle eared viewers have started to piece together the odd one liners from islanders and are sensing that something else might have gone down that producers chose not to air that caused Niall's abrupt departure.
Something happened between Niall, Josh and Georgia that they didn't show us #LoveIsland you can pick it up from random one liners. Rosie said Adam accused Niall of lying the night he left, today Dani and Jack said Josh is sleazy and the girls seem to be off Georgia.

— Thierry's wife. (@faithy_waithi) June 15, 2018
Georgia quickly re-coupled with the new guy (at the time) Josh Denzel and since then, the two have been getting continuously closer, and with islanders, such as Dani and Jack referring to Josh as untrustworthy and 'a bit sleazy' people think their was some proper muggy behaviour going down off-camera.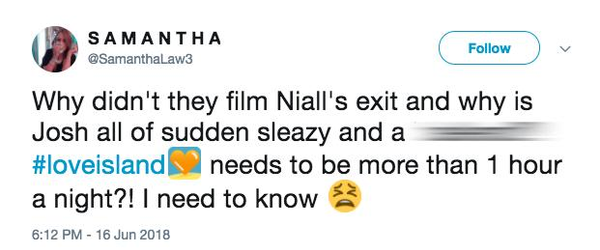 Picture:Twitter
No one seems to notice how Georgia has jumped ship so quickly from Niall to Josh tho hmmm #loveisland

— Amit (@amit_sood1) June 15, 2018
People are confused as to why the producers decided against showing the drama, as that's kind of the entire purpose of Love Island's existence, but whatever went down, it must have been pretty bad to make Niall walk out.
Download Our Brand New App For All The Latest Love Island News