Love Island Fans Have Called Curtis Pritchard The 'Biggest Game Player'
11 June 2019, 12:15 | Updated: 11 June 2019, 12:39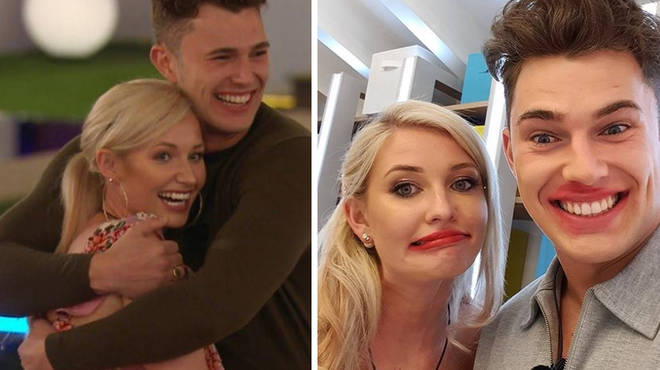 Things are heating up in the Love Island villa.
Love Island's Curtis Pritchard has been branded the "biggest game player" in the villa as many think he has a game plan.
Love Island: The Morning After Podcast – How To Download And Listen
Some Islander fans have even predicted he will soon call it quits with his love Interest Amy Hart. One viewer tweeted: "I think Curtis is so dodgy. Get the feeling that he's a massive game player #LoveIsland."
Another wrote: "Not gonna lie, I don't trust Curtis. He cheated on his last girlfriend so I'm not buying the whole "nice guy" act. I reckon he's playing a game so he can win that sweet cash prize"
A third chimed in saying: "I really don't buy #Curtis and #Amy it's not real they're not in love after a week he's not the nicest guy . He's false , has a game plan & trying to be the new jack and dani from last year not gonna happen."
Amy, who was snatched from Anton by the latin and ballroom dancer have since become inseparable. Curtis was left covered in Amy's lipstick after sharing a passionate kiss and sealing the deal. After a giggle, the pair snuck off to the bathroom to quickly clean up before the other islanders noticed.
However, he's not the first to be accused of playing a 'game'. Danny Williams ex-girlfriend claims that the hunky model is "just playing a game" and just wants to further his career.
In a phone conversation shared on Twitter, a woman can be heard speaking to a mystery man saying she's known for a month he would be entering the villa.
She said: "I've known for like a month. He said 'I've got to do what I've got to do, I'm playing a game I'm doing it for my career. He was like, 'you've got to remember I'm playing a game, whatever you see on there it's a game' – it doesn't look like a game to me."
Keep up with the drama weekdays at 9pm on ITV2.
> Download The Love Island Podcast For All The Latest Love Island News OR Listen On Alexa By Asking: 'Play Love Island Podcast'
Listen to Love Island: The Morning After