Love Island 2018 Star Adam Collard's Dad Just Outed Him On Instagram
21 June 2018, 12:50 | Updated: 21 June 2018, 15:40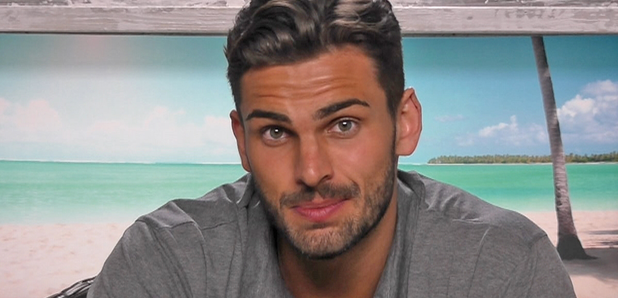 Adam has been one of the most controversial characters in the Love Island villa during 2018, but now his dad has just stirred things up even more!
We're used to seeing the Love Island stars embroiled in drama on our screens - whether that's Rosie kicking off or Alex pouring his heart out, it feels like we've seen it all.
Well it turns out that whilst we've been focussing on the on-screen action, the real drama has been taking place on Instagram and Adam's dad has been getting fully involved!
> This Theory About Why Niall Aslam Really Left Love Island Makes Total Sense
Whilst his son has been making plenty of headlines with his controversial actions in the Love Island villa, Adam's dad has been speaking out about the whole thing on Instagram and he's made a pretty surprising revelation.

Pic: Love Island
One Love Island fan asked him "Can we get a comment about yours sons behaviour toward female pls (sic)" and "N before you start getting defensive. I'm not blaming you. Adams a grown man but I just want to see opinion of a man he values (sic)", before Adam's dad, Billy, then responded by saying, "Quite honestly Adam is nothing like this and this must be scripted for the ratings. Total s**t."
So Adam's dad is saying that his behaviour is fake and that the whole story line is scripted for the show? Whaaaaaatt!?
A comment posted by Adams Dad last night... #loveisland pic.twitter.com/Vn3h71t46y

— Love Island Reactions (@LIReactions) June 20, 2018
Shortly afterwards Adam's Twitter account was suspended, however moments before one of his family members appeared to have posted two tweets condemning his actions on Love Island and particularly his treatment of Rosie, before they quikcly denied the tweets were real.
The first tweet read, 'Even us at home don't really agree with what Adam's been doing the house. Actually feel sorry for Rosie. No remorse. Families not happy with his actions.'
The second followed up with, 'Definitely not "disowned" my son for his actions, just disagree when smiling when Rosie was crying her eyes out, he's in the wrong. Let's not get that twisted. My son will always be my son."

After the tweets began being shared online, Adam's official Instagram page posted a statement about the tweets saying, 'We have NOT issued this and would NOT condone these comments at all! Say what you will this as a reality game show!'.
Love Island fans have been split over Adam's controversial behaviour in the villa and plenty of them have expressed their distaste with the way he's been treating Rosie whilst on the show...
Good god Adam on #LoveIsland is a complete tool. What a piece of work he's such a jerk to Rosie, sat there with a wonky smug smirk makes me want to smack him with a wet fish. So annoying.

— Squish (@Shhquish) June 21, 2018
you can't even lie and say Adam hasn't done Rosie wrong at all #LoveIsland

— diddy (@dxmss_) June 21, 2018
Adam is such a liar!!! He was gonna dump Rosie regardless of how she reacted to what he's done. He's disgusting #loveisland

— lily (@malibuharry) June 21, 2018
> Download Our Free App For Loads More Love Island News!