After Crushing On Him In Spider-Man, Everyone's Getting Worried About How Old Tom Holland Actually Is!
11 July 2017, 17:14 | Updated: 4 December 2017, 11:10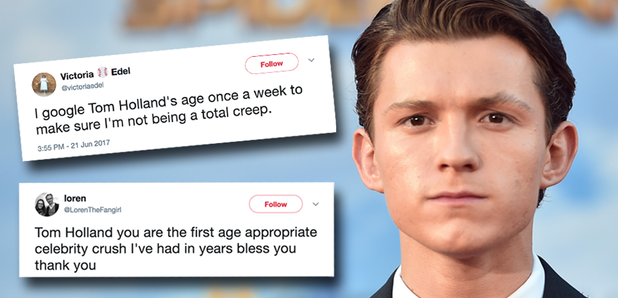 Tbf he does play a 15 year old in the film!
If you've seen the brand new Spider-Man film already, you'll know about the magic of Tom Holland. The British actor plays a young Peter Parker aka Spidey during his teenage years and it's left a lot of cinema goers confused.
Tom plays such a likeable character in the film that many people are starting to crush on him whilst watching the story unfold, with some people even googling his age in the screening!
> Zendaya Just Friend-Zoned Spider-Man's Tom Holland So Hard On Twitter That We Don't Understand How Anyone Can Think They're Dating
Loads of people have taken to Twitter to share the fact they'd been worrying that they were crushing on a teenage boy and some of them are actually hilarious...
Pretty sure 75% of my theater took out their phones to look up Tom Holland's age 20 minutes into the movie.

— evanxavier (@evanxavier) July 10, 2017
The first thing I did after watching #spidermanhomecoming was google Tom Holland to ensure I didn't have a crush on an actual 15 year old.

— Ashley Spatz (@ashley_spatz) July 10, 2017
It's so weird to be at an age where I want to date Tom Holland AND Robert Downey Jr

— Sabrina Danielle (@sabdaniellee) July 10, 2017
FIRST THING I DID AFTER LEAVING SPIDER-MAN HOMECOMING WAS LOOK UP TOM HOLLAND'S AGE AND THIS IS ADULTHOOD #thankgoditsnotcreepy

— Rachel (@racheldoesbooks) July 9, 2017
It turns out that Tom Holland is actually 21 years old (his birthday is 1st June 1996 FYI), so if you've been keeping your love for the London lad quiet for fear of being ridiculed, now you can feel free to shout it from the rooftops.
I LOVE TOM HOLLAND!
Or something to that effect anyway.
Me upon learning that Tom Holland is exactly old enough for me to thirst over pic.twitter.com/oVextDY3eL

— Bailey Herdé (@been_herde) July 10, 2017
Tom popped into Capital recently and had a chat about all things nudity/sex scenes...