"You Won't See Me With Another Girl" - Love Island's Theo's Ex GF Has Outed Him With WhatsApp Screenshots
7 July 2017, 12:24 | Updated: 4 December 2017, 11:10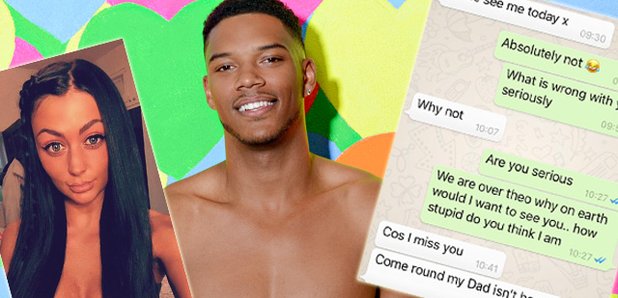 It's all going off one Twitter.
Love Island's Theo Campbell is not only facing criticism from the British Athletics Body after they revealed they didn't know he was going on the show, but now also someone claiming to be his 'ex' girlfriend.
In new, leaked WhatsApp messages, Theo's ex, Chloe Demaret has revealed that Theo begged her to "wait for him".
> A Love Island Insider Revealed The Islanders Get A Huge Clothing Allowance, On-Site Counsellors & Chefs
Chloe uploaded the screenshots to Twitter after she was furious about him going on the dating show.
In a string of text messages, Theo attempts to tell an angry Chloe about his Love Island adventure by saying, "relax, it will be funny" and "you'll laugh, I promise".
"You're not going to see me with any girl anywhere I promise" only on national TVwasn't going to do this but I'm fuming#loveisland pic.twitter.com/3cG1GWB1CL

— Chloe Demaret (@chloedemaret) July 6, 2017
Yeah, we're pretty sure that she's not laughing at the moment Theo.
The athlete then added that he's "not looking to 'love' am I".
Well, that is kinda the point of the show… it's called LOVE Island.
Chloe stuck to her guns and responded by calling him "deluded" and claimed that she "literally never ever ever ever ever ever ever want to be with you".
OUCH.
Another string of messages show Theo begging Chloe to go and see him saying, "I miss you… come round my dad isn't in".
Romantic, right?
Theo has ruffled a few feathers in the villa already by telling Montana, who's currently coupled up with Alex: "In the outside world, you'd be mine. Easy."
He also made a play for Tyla who is getting it on with Jonny, resulting in the two boys arguing over the brunette.
Uh oh…
Remember when the Islanders had to play a sexy game of beer pong?