'The Voice' Stage Invader Has Been Revealed - Now We Know What That Piece Of Paper Said...
3 April 2017, 15:00 | Updated: 4 December 2017, 11:10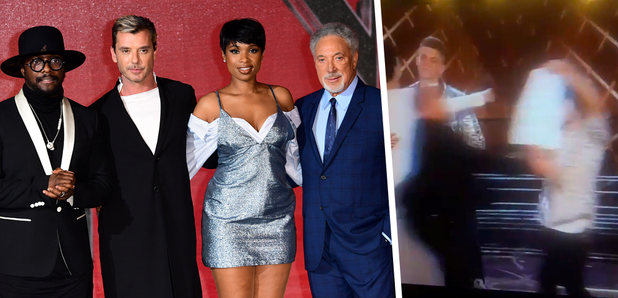 No, it wasn't Lee Nelson!
As millions of us tuned in to watch the final of The Voice, we were shocked to spot a man run on to the stage shortly before the closing moments of the show.
Erm who was that?? Hahaah #TheVoice #TheVoiceUK pic.twitter.com/S39WDMvAC5

— LockedSoulXO (@LockedSoulXO) April 2, 2017
How many of us thought, "Oh come on Lee Nelson, we've seen this all before lad"? - loads of people if Twitter is anything to go by!
Well it turns out that well-known prankster Lee was not behind the stage invasion during The Voice and now we know details of exactly who was.
An up & coming rapper by the name of Dr A.C was the man behind the stunt and he's taken to Twitter to share exactly what was written on his piece of paper...
#CreativeismMovement @itvnews @itvlondon Now that I survived can I come at least to express & explain my ideas at @itvnews? @CreativityNArt pic.twitter.com/NmFARqh1Zm

— Dr A.C (@CreativityNArt) April 3, 2017
Dr A.C - Picture: YouTube
He claims that he was on a mission to share his creative ideas and that the stage invasion was not supposed to be threatening. Dr A.C also claims that security choked him for several minutes after they were seen grabbing him and removing him from the stage.
#CreativeismMovement I was checked Earlier by security. I had a book in my back pocket and holding up IDEAS. There was no need for BRUTALITY

— Dr A.C (@CreativityNArt) April 3, 2017
#CreativeismMovement The BRUTE security of #TheVoiceUK has distorted the Larynx & notch of my throat.I breathe with difficulties & can't eat

— Dr A.C (@CreativityNArt) April 3, 2017
#CreativeismMovement The security of the @itv @ #TheVoiceUK held my neck locked for 10m. I was choked to death. Reported it to @metpoliceuk

— Dr A.C (@CreativityNArt) April 3, 2017
He also claims that he's reported the choking incident to the Metropolitan Police. ITV released a statement to respond to the incident which was viewed by millions of people on prime time TV.
The brief statement reads, "During the results this evening there was a brief interruption on stage, which was dealt with immediately by security. The show continued as planned". Police were not called to the scene and the intruder was removed from the studios by ITV security staff.
You may also like...