The Internet Is Kicking Off About The New Hunger Games Theme Park & TBH, We Kinda Get It
24 October 2017, 15:21 | Updated: 4 December 2017, 11:10
There's mixed emotions, that's for sure.
The Hunger Games books and movies are set in a future in which poverty is rife and certain districts only exist to create resources for the super-rich Capitol… and their children fight to the death for the Capitol's amusement.
And now this has been turned into a theme park… kinda.
> WATCH: Replacing Peeta With A Pitta Bread In The Hunger Games Is Actually The FUNNIEST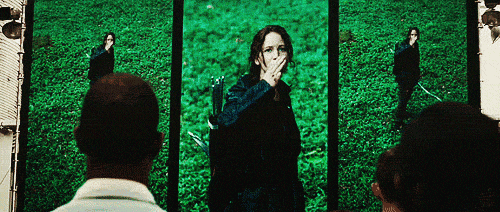 The World Of The Hunger Games opened on October 20th 2017 in Dubai and is part of the Lionsgate zone at the Motiongate park.
The Hunger Games section features a hovercraft simulator which shows a tour of Panem, a Capitol Bullet Train roller coaster and even Peeta's Bakery for some snacks.
Oh, and you can totally hang out with Peacekeepers.
On top of that, guests can interact with the coal miners from District 12 which happens to be Katniss's home district where her father died in a coal mine explosion.
Their lives may well be tragic in the books, but in The World Of The Hunger Games, the miners put on quite the lively show for park guests.
Despite references to some of the more depressing parts of the story, there are nods to the happier, more empowering elements: the three-fingered salute and the mocking jay pin, for instance.
However, fans really aren't happy that this theme park has opened, with people questioning whether the creators even got the general grasp of the books.
Wait...there's a world of the hunger games theme park in dubai now,

Did you miss the point?

— RESKILL (@Reskell492) October 23, 2017
A hunger games theme park is literally the OPPOSITE of the message we were supposed to take from the books I'm screaming

— Hana (@hana_ironically) October 14, 2017
so they're making a hunger games theme park??? like is there going to be an actual fight to the DEATH??? pic.twitter.com/P8erQJ2KDK

— l (@themsyciras) September 2, 2017
someone wants to make hunger games theme park and everyone is like wtf

— sim mallec (@starsmalec) September 2, 2017
yeah, I just mean WHY WOULD ANYONE WANT TO BUILD A THG THEME PARK, whats going on with people

— PumpkinSpiceLizard (@lovablelizard) September 2, 2017
The hunger games theme park #AwfulThemeParkIdeas

— Harriet Eve Bell (@Babybellno1) August 30, 2017
Hmmmmm... don't think I'll ever be doing a Hunger Games theme park thx https://t.co/3HVnu1nZvI

— Matt (@Hobbit311) August 21, 2017
Sounds fun, hey? *eye roll*
Whilst you're here, check out these adult jokes from kids TV shows which you totally would've missed as a youngster...
> There's More Hilarious Content Like This Over On The App. Click Here To Download.