WATCH: The 'Cast Of Friends' Reunited On The Chase & Viewers Completely Lost It
15 March 2017, 11:52 | Updated: 4 December 2017, 11:10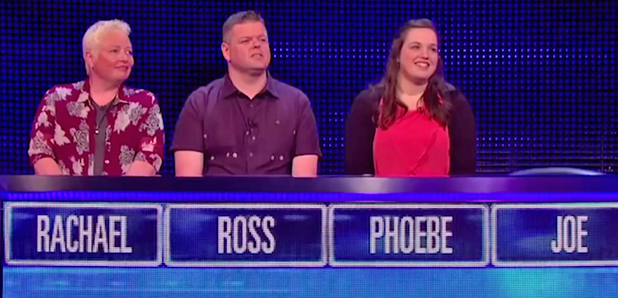 Even Marcel The Monkey made an appearance!
No, of course Jennifer Aniston, Courteney Cox, Lisa Kudrow, Matt LeBlanc, David Schwimmer and Matthew Perry didn't appear on the much-loved daytime TV show, but some imposters did and it was incredible.
Yes, four contestants named Rachael, Ross, Phoebe and Joe lined up side by side on The Chase and viewers were left in awe.
Just check out this video to see the hilarious initial exchange...
It took Bradley Walsh long enough to realise didn't it!?
The chaser, Jenny 'The Vixen' Ryan's comment of 'You supposed to be Chandler or something?' had us cracking up and it seems that people watching at home were also finding this whole thing pretty amusing.
Am i watching the chase or Friends? pic.twitter.com/qpUYiAJtce

— RobWorm (@robwormm) March 13, 2017
Things got a bit rough for the Friends gang after Monica and Chandler moved away.#TheChase pic.twitter.com/zJ6cvfHb8N

— Steph ✮ (@onceuponameme_) March 13, 2017
#thechase just noticed Ross Rachel phoebe and joe are the contestants I wonder if they are friends

— Stuart James Dawson (@StuartJDawson) March 13, 2017
A Friends question. Just what the show needed, another Friends reference. #TheChase

— LeanneNorthumberland (@leauk84) March 13, 2017
This is probabaly the closest to an actual Friends cast reunion we'll get to see for a while, so let's just embrace it!
Well played producers of The Chase. Well played.
You may also like...