This Theory That 'Stranger Things' Is Linked To 'Parks & Rec' Makes So Much Sense...
21 September 2016, 17:55 | Updated: 4 December 2017, 11:10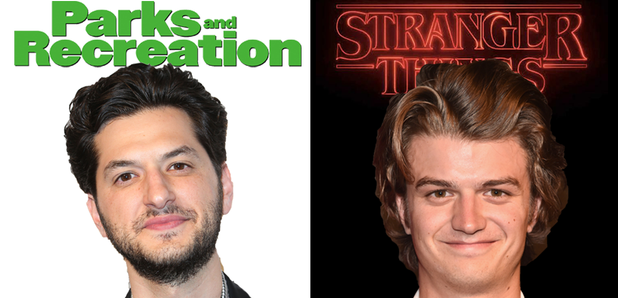 This is just incredible...
So Stranger Things is probably the most talked about show around atm.
Everything about it is incredible and we are so excited for Season 2.
But whilst we loved every second of the first season, we obviously missed a few things.
Such as the fact that the show could actually be weirdly linked to Parks & Recreation!
Fans of both shows will probably be scratching their heads wondering how exactly two shows that were created years apart could be connected.
But it really does make so much sense.
So...
It all began when people realised that Steve from Stranger Things and Jean-Ralphio form Parks & Rec look alike.
Just check out the image above if you need a reminder.
Now stay with us here.
People are claiming that because Stranger Things is set in the eighties, Steve is actually Jean-Ralphio's dad and Nancy is his mum.
It's alleged that Steve and Nancy aren't seen in Parks & Rec because they've been killed by the monster or have potentially had a mental breakdown.
In Parks & Rec, we see Jean-Ralphio's 'dad', Dr Saperstein, and he's always spoiling Jean-Ralphio.
Well the theory is that he does that because he's Steve's brother and feels really terrible about what happened to Steve.
Keeping up?
Then think about this.
Parks & Rec is set in Pawnee, Indiana and Stranger Things is set in Hawkins, Indiana.
A coincidence? We don't think so.
We know that Jean-Ralphio was born in 1985 and that's two years after the events of Stranger Things.
So it's definitely a possibility that Nancy and Steve had twins who ended up becoming Jean-Ralphio and his sister Mona Lisa.
How about this then?
In parks & Rec, Jean-Ralphio was left a large sum of money when his Grandfather died.
He used it to set up Entertainment 720.
Steve's family seem to be very wealthy as they've got a huge heated pool and big old house, so it makes sense that they would have money to leave for their grandkids.
Still not convinced.
What about if we remind you that Nancy seemed to have a bit of a thing for Will's brother Jonathan in Stranger Things.
So she decided to name Jean-Ralphio after Jonathan but in a cryptic way as not to alert anyone to her secret feelings?
Well we're sold.
Check out these pics of the two together...
The Upside Down Parent Trap. pic.twitter.com/EcVfdvOIzA

— Ben Schwartz (@rejectedjokes) September 20, 2016
Dad and son meet because the Internet. @joe_keery @Stranger_Things #strangertwins pic.twitter.com/Dkxm5NjCtL

— Ben Schwartz (@rejectedjokes) September 20, 2016
Amazing!
You may also like...