WATCH: Stephen Bear Appears In The Cringiest Advert We've Ever Seen & Fans Aren't Happy
13 March 2017, 14:42 | Updated: 4 December 2017, 11:10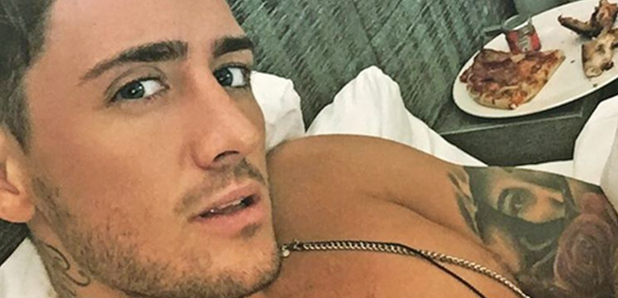 Just when you thought you'd seen everything...
Social media can often be a blessing and a curse. It can help you connect with fans across the world, but it can also open you up to less-than-positive comments and unfortunately that's exactly what's happened to Stephen Bear.
The Celebrity Big Brother winner has faced a bit of a backlash from fans with his last couple of social media posts and the responses don't seem to be slowing down any time soon.
We all know that celebs get paid to advertise certain products on Instagram. They're usually pictured using them or posing with them, but for Bear's latest post, he's basically starred in one tea company's brand new TV advert...
Yep, we're not sure how to feel after that either. Just so cringe right? All that chat about "not pooing every five minutes" is just too much for us to take.
But it seems that we're not the only ones either. People were confused that someone with a seemingly desirable body would be claiming he's trying to get 'beach body ready' and their comments say it all really.
Instagram user jenbreezey wrote 'Advertising getting a flat stomach from someone with washboard abs ......proper convinced', whilst reescurran commented, 'Z list celebs working for s***ty tea companys getting paid for advertising. F**k that'.
But it wasn't the first time in recent days that Bear has come in for some stick for his social media posts.
Just before he posted that video to his Instagram, he also posted this screenshot of a note he'd written on his phone, asking people to tag brands because he needed some new clothes and bags etc to take on his upcoming holiday...
Once again, people were quick to slam him, this time for appearing to ask for free clothes from brands. Insta user rosslannon wrote, 'How about you go to the shops and buy it like everyone else...?', whilst lmshone14 added, 'Try going to the shops and buying stuff rather than fishing for freebies'.
But whilst there were many people who were posting negative comments, on both of these posts, there were also a number of positives, particularly on the holiday post.
Bear doesn't mention that he wants clothes for free and seems to simply be asking for recommendations of cool brands, but we can understand why people are confused about the whole thing. The tea advert we won't be able to get over any time soon though.

You may also like...