Steph Davis SLAMS Jeremy McConnell, Telling Fans Caben-Albi Won't Grow Up "Like His Father"
25 July 2017, 12:37 | Updated: 4 December 2017, 11:10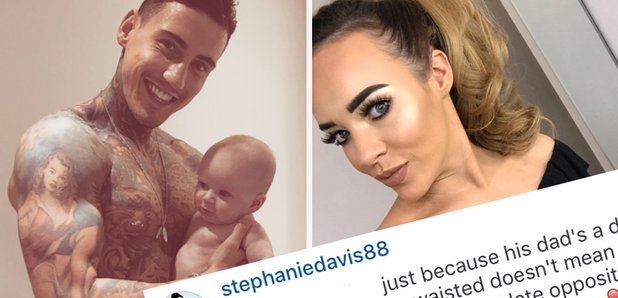 Things are definitely not getting any better between these two then…
It's not been an easy few months for Steph Davis and Jeremy McConnell but it looks like things aren't going to get better any time soon as Steph hit back against her baby daddy on Instagram this week.
Steph posted an adorable photo of little Caben-Albi with his granddad, calling him her son's role model as she captioned it, "What a shot. His idol. What a man my father is to look up to, what a man!!! SO proud to call him my dad. #grandad #grandson couldn't be happier."
When a fan commented on the photo, Steph replied back to the post hitting out at Caben's father, Jeremy. She wrote, "just because his dad's a drug addict womanising waisted doesn't mean he will grow up like his father. Complete opposite of it has anything to do with me. #s**gscum"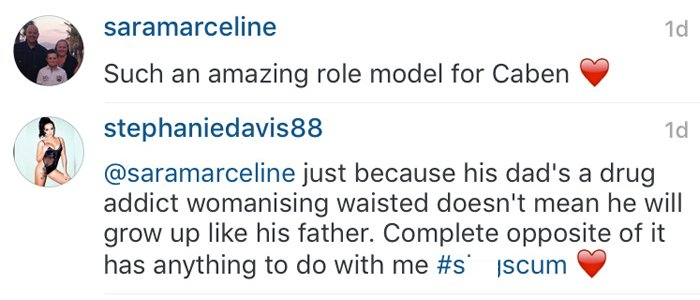 Steph and Jeremy's relationship has been fraught pretty much from the beginning after they got together on Celebrity Big Brother while Steph was dating someone else.
The couple had been on and off throughout – and Jeremy famously made Steph get a paternity test before he would accept Caben was his son – and finally split for good in June after the pair got into a fight in a hotel room and Steph was reportedly arrested on suspicion of grievous bodily harm.
While Jeremy has been spending his time partying, Steph has been trying to get back to her acting career with a source telling the Daily Mail, "Stephanie is getting her life back on track, is feeling good and looking good. She has put the horror of the past few weeks behind her and is now ready to come back fighting.
"Stephanie is getting back to her career and her life after being disengaged from it for some time. Caben as always is her priority and doing the best for him is what she needs to do both in work and home life."