11 Stars You Never Knew Were RIDICULOUSLY Good At Sports
31 July 2017, 15:22 | Updated: 4 December 2017, 11:10
Promoted by TalkTalk TV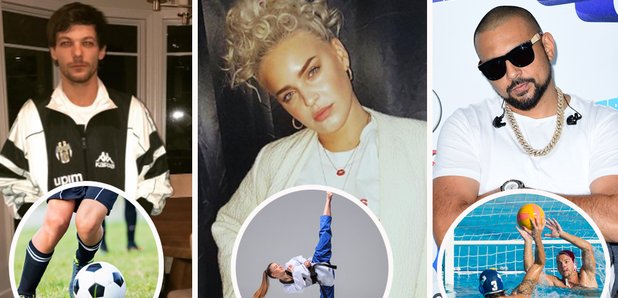 Before the likes of Justin Bieber, Anne-Marie and Miley Cyrus were famous, they were top of their game in the sporting field instead!
It takes a LOT of discipline to make it as a pop star or an actor - which is a skill these 11 stars learnt at an early age through their sporting successes. Check out the stars you never knew had successful secret sporting pasts!
Louis Tomlinson - Football
As well as conquering the world of music, Louis Tomlinson is also a dab hand around a football - so much so, the former One Direction star was signed to Doncaster Rovers for the 2013/14 season and even ended up becoming one of the club's owners in 2014!
Chloe Ferry - Ice Skating
Before starring in Geordie Shore, Chloe Ferry had a pretty impressive career as a figure skater under her belt, training in the sport since she was just 7 years old!
Sean Paul - Water Polo
He might be best known for his dancehall jams now, but Dutty Paul actually started out with a career in water polo, appearing on Jamaica's national team from the age of 13 until he was 21 and gave it up to focus on his music career!
Niall Horan - Golf
The former One Direction star first got into golf WAY before he appeared on The X Factor, joining his local golf club back in 2005 and has since managed to get his par down to single figures with a little help from lessons from golfing legend Rory McIlroy.
Shawn Mendes - Football & Hockey
He might have made his name as a Vine star before taking on the pop world, but while he was at school, Shawn was a keen football and ice hockey player too!
Justin Bieber - Ice Hockey
When he was a kid, Justin wanted to be a professional ice hockey player and he still takes every opportunity to have a go on the ice - frequently popping up at local clubs around the world for a game while he's on tour!
Britney Spears - Basketball
Not many people know that before Britney donned her pigtails and became a pop star, she was actually a point guard on her high school basketball team - and she's still pretty great at shooting hoops now!
Perfect day to shoot some hoops pic.twitter.com/WBIrG0o1tV

— Britney Spears (@britneyspears) March 8, 2017
Anne-Marie - Karate
Here's one pop star you wouldn't want to get on the wrong side of... as well as dominating the charts, Anne-Marie has been doing shotokan karate since she was just nine years old, even winning double Gold in the Funakoshi Shotokan Karate Association World Championships in 2002!
Miley Cyrus - Cheerleading
She was always destined to be a performer - before her starring role in Hannah Montana and transitioning into a pop star, Miley was a cheerleader competing with the Premier Tennessee Allstars - but she had to give it up to focus on her acting commitments!
Nina Dobrev - Volleyball, Soccer, Basketball, Baseball & Flag Football
Not content with playing just one sport, actress Nina Dobrev was actually pretty good at a number of sporting events, including playing varsity volleyball, soccer, baseball, basketball and flag football at Wexford Collegiate School for the Arts in Ontario. Impressive!
Jason Statham - Diving
Before becoming a hard-man actor, Jason was a living champion, appearing in the British National Diving Squad for twelve years, even competing for England at the 1990 Commonwealth Games in New Zealand. It didn't go so well for him at that particular competition but would you look at the HAIR!