Can You Use Rihanna and Ellie Goulding Lyrics As Chat-Up Lines?
29 March 2015, 06:00 | Updated: 4 December 2017, 11:10
Roman tests his skills on the unsuspecting public, but will they fall for his charms? (Hint: the answer is DEFINITELY not!)
Never one to shy away from a challenge, we sent Roman Kemp out on to the streets armed with nothing but his charm and a collection of lyrics from our favourite pop songs.
Obviously the very first song that springs to mind when you're trying to pull is Britney's absolute classic 'Oops! I Did It Again'! But will it work?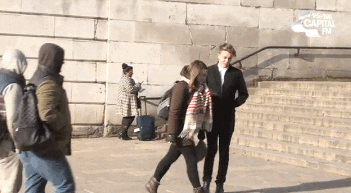 How about the former Big Top 40 number 1 from Years & Years, 'King'? Will Roman's wailing manage to score a phone number or two?
The Capital presenter also managed to attempt picking up the ladies with tracks from Rihanna, Ellie Goulding and Aussie rockers 5 Seconds of Summer - but which one proved successful?
Spoiler alert: One of these attempts *may* end up with Roman getting slapped around the face... So don't try this at home (or totally do and let us know how you get on!
You may also like...