The Solid Chocolate Easter Egg Of Your Dreams Is Finally Here & It Looks Incredible
30 March 2017, 15:36 | Updated: 4 December 2017, 11:10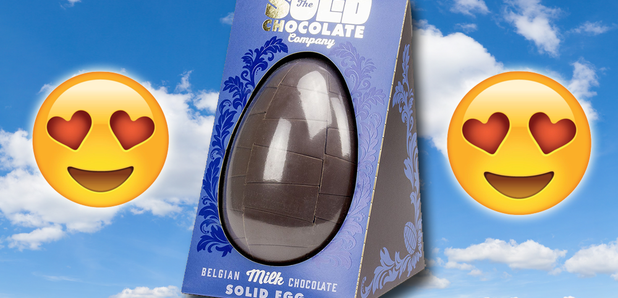 We'll never look at a hollow Easter Egg the same again!
When Easter rolls around, there are two sets of people. Those who embrace the religious meaning behind Easter - and those who literally just want to gorge on an endless amount of chocolate eggs.
If you happen to be part of the second lot, you're in for a sweet treat because one company has developed what they claim is the world's first solid chocolate Easter Egg!
Yes, The Solid Chocolate Company are the legends behind this mythical creation and it is literally a thing of beauty!
A solid Easter egg. Life is complete. pic.twitter.com/iFHFfFpWA0

— Mike (@mickbmack) March 30, 2017
Haters will say it's probably smaller than a normal Easter Egg, or that the chocolate won't even be nice, but in fact it's the exact size of an average Easter Egg and is made of Belgian chocolate - lovely stuff.
Solid Easter Egg lovers around the country have been craving these for years, but the £24.99 price tag has made some people question their Easter Egg buying policies...
I have just purchased a solid easter egg for £25... When will I understand the concept of finances.

— WIN!! IPHONE 7 PLUS (@giveawaydowly) March 30, 2017
I've just paid almost £30 for a solid easter egg. I should be ashamed.

— EM (@em_mcdermott) March 15, 2017
Some people are absolutly loving the solid chocolate eggs though...
I want a solid easter egg this year, chocolate all the way through

— Marnie (@marniedaisyx) March 30, 2017
the best Easter chocolates are those that are solid, not hollow... and dark, not milk.

That is all. Carry on.

— Tucker Feyder (@feyderade) March 30, 2017
Others are not happy with them at all...
A full solid Easter egg in existence? What monster did that?!

You get an egg...break the egg...eat a bit...freeze it...binge the rest. #Duh

— Jessica Flynn ⟠ (@roflcopterftw) March 30, 2017
What do you think? Solid eggs FTW or are you not about that solid egg life?
You may also like...