Fans Are Freaking Out Over The Shade That Victoria Justice Threw At Ariana Grande In Old 'Victorious' Interview
28 April 2017, 14:31 | Updated: 7 December 2018, 16:50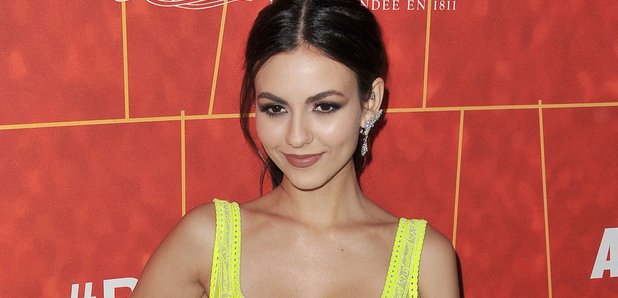 Poor Ari.
Long before Ariana Grande was the pop princess that we now know and love, she was a Disney actress and appeared in a small (PAHA) TV show called Victorious.
Most recently, an old video clip of the Victorious cast is going viral after a fan posted an edited version on Twitter.
The clip shows Liz Gillies talking to Ariana Grande, Victoria Justice and Daniella Monet about which cast members sing the most when they're not filming.
Unsurprisingly, the cast gave the title to Ariana who, as we all know, is quite talented… so why wouldn't she show off?
Liz states that Ariana sings the most, Daniella agrees and then adds that Liz sings quite a lot as well. Victoria, however, nods and then freezes before promptly piping up to state, "I think we all sing".
To be honest, if we had seen the video before fans started turning it into a meme, we probably wouldn't have thought much of it… but whilst we're here, Twitter is on top form again.
@sidetosIut ariana: *breathes*-

victoria: I THINK WE ALL INTAKE OXYGEN pic.twitter.com/Hhwl4MGea1

— eric (@erydayeryday) April 24, 2017
Ariana: I'm dating Mac Miller

Victoria: I think we ALL date Mac Miller pic.twitter.com/7WrQKBOkNX

— krystal (@truelovekrystal) April 24, 2017
Martin Luther King: I have a dream
Victoria Justice: I think we all have a dream pic.twitter.com/IRnC8ttXR5

— Lucille Austero (@alexrea98) April 26, 2017
Ariana: I'm sorry for licking that donut
Victoria: I think we're ALL sorry for licking that donut pic.twitter.com/Vlf3qowaT5

— Priyanka (@mccanscabello) April 24, 2017
@VictoriaJustice i think we ALL just want to dance pic.twitter.com/ejFz68kNO7

— ️ (@bocaruin) April 24, 2017
You May Also Like...