Viewers Think CBB's Sarah & Chad Had Sex Last Night And They're Fully Grossed Out
24 August 2017, 14:03 | Updated: 4 December 2017, 11:10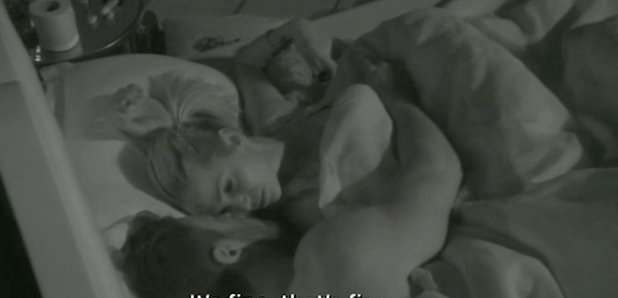 Seriously, we can't tell if we're watching Celebrity Big Brother or Love Island any more…
The Sarah Harding and Chad Johnson Show… sorry, we mean Celebrity Big Brother, had viewers up in arms again after the couple left fans guessing whether they had finally done the deed last night.
On Wednesday night's show, Chad and Sarah once again got up close and personal under the covers and fans were speculating that the couple might have finally had sex – and were pretty grossed out by the whole thing.
I think I'd rather sleep in another persons sick than watch Sarah and Chad makeout any longer so cringe #cbb

— Charli (@chxrlxt) August 24, 2017
Chad and Sarah make me cringe so much

— becs (@becwoodsxo) August 24, 2017
There's nothing more cringe than Sarah an chad, I'm gonna vom

— lucy (@Loooceee) August 24, 2017
Sarah and Chad are SO CRINGEY I CANT

— • bonnie-jas (@emptygoldxo) August 24, 2017
Watching Sarah flirt with Chad #cbb pic.twitter.com/k1Wssekq83

— Tina Hassan (@thatgirlTinaa) August 24, 2017
Sarah & Chad make me cringe so hard #CBB

— Niamh Mia (@niamhmia_) August 24, 2017
Chad and Sarah literally make me go red! #cringe #celebritybigbrother

— Amy Graham (@AmyGrah92) August 24, 2017
Can Big Brother please remove Sarah or Chad, because both of them together in the house, is making me feel nervously unwell #CBB

— Hayléy Hammersléy (@hayhammersleyox) August 24, 2017
Why does anyone wanna see chad and Sarah snogging In bed on a Wednesday night then???? #CBBUK grim

— Libby (@ldskinner98) August 24, 2017
It comes after Sarah was also seen groping Chad with the covers off a few days ago – something the show is coming under fire from OFCOM for - and following comments she made about Jemma Lucy and claims that she would never have sex on screen.
In the scenes, Sarah was heard complaining that she was "too hot" to which Chad replied, "Yeah, you are" as they started kissing, Chad was then heard saying "This is too much" with Sarah telling him, "It's not, I want it."
We'll have to wait and see whether they own up to it or not…