"I Thought I Was Dying" - Sam Thompson Reveals How Anxiety Caused Him To Break Down In His Mum's Arms
3 November 2017, 15:25 | Updated: 4 December 2017, 11:10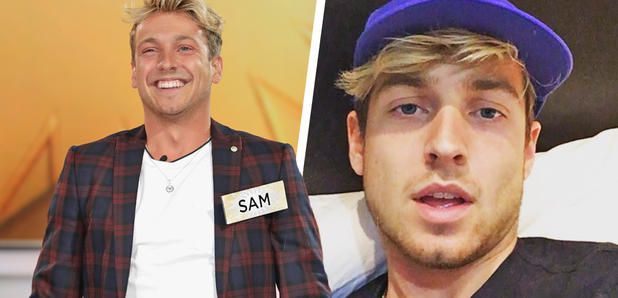 This must've been a realy difficult time for the 'Made In Chelsea' lad...
During his time on 'Made In Chelsea', Sam Thompson has been involved in a rollercoaster on/off relationship with Tiffany Watson, with the most recent series in Ibiza seeing the two break up 'for good'.
But what most people won't realise is that throughout that whole period, Sam was suffering with serious anxiety but tried to keep it hidden from the public.
> It Looks Like Charlotte Crosby & Stephen Bear Are Back Together Already & Fans Aren't Impressed
He's now detailed his experience and revealed how his feelings caused him to break down to his mum, questioning what's wrong with him.
The 25 year old told Metro.co.uk, "I didn't understand and I was really tired and lethargic, not feeling nice at all. I kept feeling like my brain was like a cloud over my eyes. I couldn't sleep and I didn't understand what was going on."
"I never had a worry in the world. I never worried about school or exams and I always thought anxiety was a myth – like something you just 'get over' and that it doesn't mean anything. It was so weird and such a weird experience to explain but I didn't know what it was – I thought I was dying."
After splitting with Tiff, Sam admits his anxiety got really bad. He explained, "I didn't want to talk to anyone. I had it for nearly a year and it got worse and worse and worse. There was a point for about three days where I wasn't sleeping."
"I finally went to my mum and I burst into tears, telling her I didn't know what was wrong with me. She was the one that told me I might be suffering from anxiety. That conversation changed everything for me because it was so nice to tell someone how I was feeling."
It turns out that speaking to someone about his problems was the best thing he could do and he's encouraging more people who are feeling a similar way to do the same.
"I was just suffering in my mind and the mind is such a powerful thing and I got locked into it," he revealed, "The worst thing you can be is locked in your own mind. Having someone to turn to was a real turning point."
We're glad he was able to speak out about it and hopefully his strength will inspire other people to seek help if they need to.
> Download Our New App For All The Latest Celebrity News!
Whilst you're here, remind yourself of Sam & BFF Jordan Davies' bromance on CBB earlier this year...