Rob Kardashian Cuts Blac Chyna Off Financially As She Poses In New Pics In Bed With Another Man
7 July 2017, 14:50 | Updated: 4 December 2017, 11:10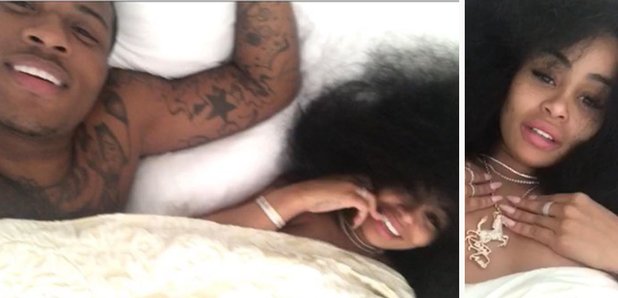 Rapper Rarri True taunted Rob by posting snaps of him and Chyna in bed together.
Talk about adding salt to the wound… after Rob Kardashian went on an epic Instagram meltdown this week, one of the men Blac Chyna cheated on him with took to Insta to taunt Rob with more pictures of them in bed together. Nice.
Rapper Rarri True – who had been photographed wearing Rob's Versace robe in his bed, which Rob reposted – has posted up multiple snaps of him and Chy undressed in bed together.
It comes as Rob has apparently cut Blac Chyna off financially, taking back hundreds of thousands of dollars worth of jewellery, the cars he bought her and is refusing to pay for the rent on her home.
According to TMZ, "Chyna actually returned the cars and jewellery to Rob. She's fine paying the rent herself - she's squirreled away money from various appearances as well as their reality show. She's also confident she has earning power post-Rob."
And as for child support for Dream, it looks like the baby girl will be spending most of her time with Rob – just like her son, King Cairo, who is apparently mainly looked after by her ex, Tyga.
Speaking of Tyga… his face when he was asked about Rob & Chyna definitely says everything his words don't…
Here's hoping the pair of them can sort it out for Dream's sake – it's not going to be a nice time for her to look back on when she's older!