21 Ridiculous Autocorrect Fails That Will Make Every 20-Something Say "That's Me"
7 February 2017, 14:41 | Updated: 10 December 2018, 12:12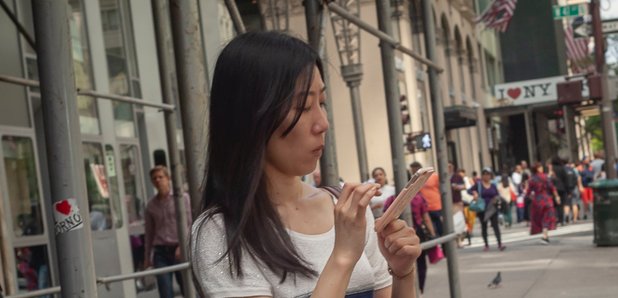 How many of these messaging mistakes have you made?
When smartphones were invented, we all hailed the technological advances and new possibilities that were now readily available at our fingertips.
However, what we didn't realise was that autocorrect was going to make us wish we still had a Nokia 3310!
Everyone who owns a smartphone has had an autocorrect fail of some kind in their life, but these hilarious ones are just way too relatable and we all know someone who has commited one of these messaging crimes. So how many have you been the victim of?
Picture: iStock
1. We wonder if these two are still together?
The importance of accurate proofreading! #transcription #autocorrect #autocorrectfail pic.twitter.com/m9AJU9MvOS

— Black Tie (@BTTranscription) February 5, 2017
2. Let's hope they don't make this mistake at the Oscars anytime soon!
Omg, in a Viber chat with a friend and had an autocorrect fail! #ShootMeNow pic.twitter.com/DwfokDudaJ

— Garry Walpole (@GJ69) January 26, 2017
3. When you secretly really wanna ruin Christmas this year...
My mother in laws Christmas Eve message.
lol #autocorrect #satanorsanta #fail pic.twitter.com/ILGQ946ggH

— toriburkett (@tori_eldenburg) January 25, 2017
4. Well this escalated quickly!
Epic autocorrect fail. This is what happens when you don't proofread a text message to a student . It's been a long day.. pic.twitter.com/dHTZv5wjOi

— Melli Velazquez (@Melli75) January 24, 2017
5. You'd get some awkward looks if this was your lunch...
#autocorrectfail @JXD_16 @dogboy999 I've turned into a cannibal pic.twitter.com/vxMx4IAGrI

— Caz Anda (@cazzapanda) January 24, 2017
6. How not to start an email...
My pass almost turned into a fail thanks to autocorrect pic.twitter.com/ImMEwCELVy

— Esmée (@ninjatulp) December 7, 2016
7. How to end a friendship in 3...2...1...
Autocorrect fail pic.twitter.com/lJC1WcoSLl

— Marisa (@m_vinsky) January 23, 2017
8. Relationship crisis averted...just about!
Massive autocorrect fail #soznick pic.twitter.com/wvzHugSq4m

— Briony. (@brionypaigex) January 21, 2017
9. The fridge, the car - it's all the same thing, right?
How did autocorrect fail me so bad? pic.twitter.com/xNZud4UkXZ

— Emma Skinner (@skinnere21) January 14, 2017
10. New in at Number 11 on the Vodafone Big Top 40 this week...Lethal Nozzle!
Autocorrect fail @_WillSebastian pic.twitter.com/Krno0VBB0I

— Annie Clarke (@mind_body_bowl) January 12, 2017
11. We can forgive one or two mistakes, but FOUR!?
why does autocorrect fail me when i need it most pic.twitter.com/CvUPnUHjPK

— ✰crystal methany✰ (@WARZONEZAIN) January 8, 2017
12. Bit of an awkward fail when talking to your mum...
Texting with Mom autocorrect fail. pic.twitter.com/wcVsQLE7Mq

— Greg Scarnici (@GregScarnici) January 5, 2017
13. When you need to learn Snapchat and also spelling...
Actual autocorrect fail between Cole and I, lol!!#snapchat #momneedstraining pic.twitter.com/ZU4IvouIsB

— Joelle Dagley (@JoelleDagley) December 7, 2016
14. When you really want Beyoncé to have a great Christmas...
When your friend wishes Beyonce a Merry Xmas on group chat... #autocorrectfail pic.twitter.com/ikDY6wsaLF

— J (@JacintaCoggins) December 25, 2016
15. Advil Wears Prada isn't a patch on the original...
Apparently I can't medicine off the mind even when trying to relax... @Tamarsb88 #autocorrectfail #worklifebalance pic.twitter.com/Na8TsGeScK

— Avital O'Glasser (@aoglasser) December 23, 2016
16. This would be an interesting order in a restaurant!
Funny text of the day #autocorrect #funny #fail #lol pic.twitter.com/0n8mPrWNMK

— Sushi Roll (@thetarci) December 23, 2016
17. We'd be watching our backs after getting this message...
#Autocorrect fail. Sorry, hubs. pic.twitter.com/QfZM5KNtXo

— Hypocrisy Police (@JessicaGG25) November 17, 2016
18. A very British problem right here...
@Matthiasiam I had this Autocorrect fail with my mum earlier. Plz do another vid! #autocorrect #fail pic.twitter.com/ap133bZmMG

— Izzy (@checker32panda) December 20, 2016
19. Well someone's not gonna win Girlfriend of the Year...
#autocorrectfail. Sorry to my boyfriend. pic.twitter.com/RHU2icxoWK

— Liz (@Foxteeths616) November 9, 2016
20. They say you need layers when it's cold, right?
when you have a #classic #AutoCorrectFail with @SouthernBets ::: pic.twitter.com/xxrwWmPRKM

— Melissa Ponzio (@MelissaPonzio1) December 12, 2016
21. Please kill meb, just tops this off!
When autocorrect just... sin rubbing... #autocorrectfail #textfail pic.twitter.com/k094HgYbm9

— Tatiana Hernandez (@TatianaHernan86) December 8, 2016
You may also like...