The ACTUAL Queen Just Sent A Tweet... And She Sounds JUST Like Your Nan!
21 June 2016, 15:47 | Updated: 4 December 2017, 11:10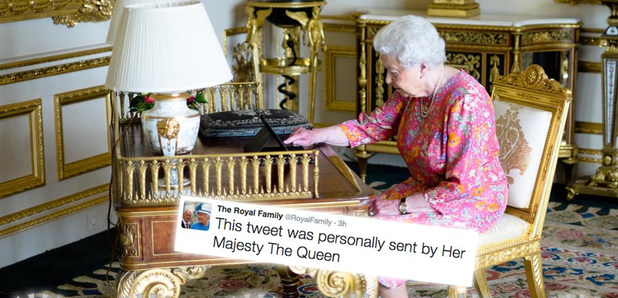 Yaaaaas Queen!
Unless you've been living under a rock, you probably know that the Queen's celebrating her 90th birthday this year - and a LOT of people have been sending her birthday Tweets to wish her a good one.
And guess what - she's only gone and replied!
I am most grateful for the many digital messages of goodwill I have received and would like to thank you all for your kindness. Elizabeth R.

— The Royal Family (@RoyalFamily) June 21, 2016
The rather formal Tweet was sent by Queen Elizabeth herself. How do we know that? Because she actually Tweeted to say that she'd sent it - and it's SUCH a nan thing to do!
This tweet was personally sent by Her Majesty The Queen

— The Royal Family (@RoyalFamily) June 21, 2016
Twitter couldn't quite cope with how to take everyone's favourite old lady embracing the 21st century (just look at her with her little iPad!) - but the consensus was resoundingly positive.
@RoyalFamily pic.twitter.com/BQqb8zQEc8

— Stephen Leng (@steveleng) June 21, 2016
@RoyalFamily BLESS YOU QUEENY YOU SWEET LITTLE WOMAN OF FANCINESS AND ROYALTYxxx

— Michael Beveridge (@mickyb273) June 21, 2016
@RoyalFamily YASS QUEEN SLAY etc

— George Melhuish (@GTMelhuish) June 21, 2016
This article was personally written by the Capital team.
You May Also Like...