Post Malone's Hits Back At Trolls That "Wished Death" On Him After His Plane Had To Make Emergency Landing
22 August 2018, 10:55 | Updated: 22 August 2018, 11:01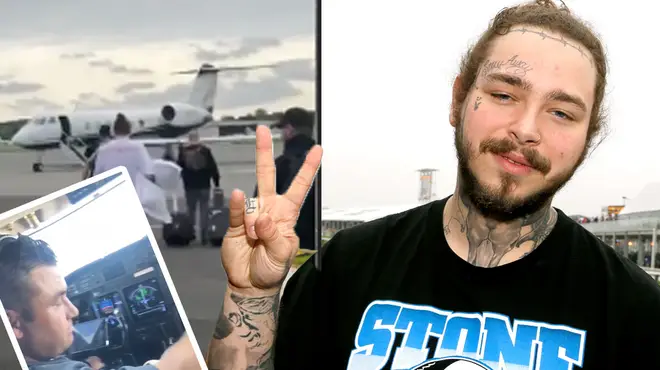 The rapper had a terrifying ordeal after two of his private jet's tyres burst after takeoff.
Post Malone suffered a terrifying ordeal last night after the private jet he was flying from New York to London in suffered two burst tyres and was forced to circle in the air to burn fuel before making an emergency landing.
Demi Lovato's Sister Posts Heartfelt Birthday Message Thanking Doctors For Saving Her Life
The pilots phoned the emergency in to air traffic control and requested a priority landing after they had burnt off some of the fuel to make their landing safer if they were to crash, but thankfully the plane landed safely and all 16 passengers on board were unharmed.
Post took to Twitter to thank his fans for their prayers during the mid-air emergency, and hit back at those who had made jokes about the terrifying situation.
i landed guys. thank you for your prayers. can't believe how many people wished death on me on this website. fuck you. but not today

— Beerbongs & Bentleys (@PostMalone) August 21, 2018
TMZ shared a video of Post Malone just after he had got off the plane following the landing, where he admitted he doesn't like flying at the best of times and was due a stiff drink of beer and wine mixed together after the traumatic landing.
Post's manager also posted about the ordeal on his Instagram story, capturing the team walking to the plane before takeoff and then showing them adopting the brace position to prepare for their landing.
We're thankful Post and his team are all OK – nobody wants to go through a landing like that on a flight!
> Download Our Free App For All The Latest On Post Malone