Love Island Fans Think That Olivia And Chris Have Broken Up Already Due To His Recent Social Media Activity
26 July 2017, 12:27 | Updated: 4 December 2017, 11:10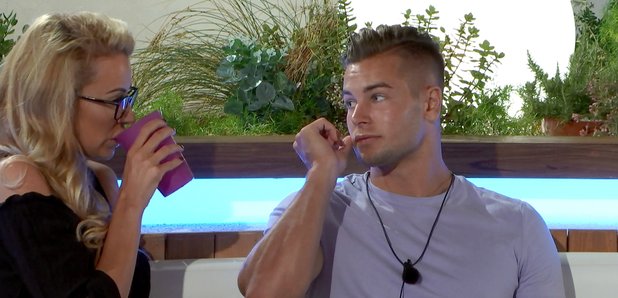 Say it ain't so!
It's fair to say that Chris and Olivia had a fairly turbulent Love Island journey with the pair breaking up and getting back together more times than Chris tried to convince us that he could rap.
But the stunning couple managed to bag themselves a place in the grand final and came a very respectable third.
> Love Island Viewers Reckon This Moment Of Olivia From The Final Explains Alot About How She Feels About Chris However, fans are now concerned about their future and it's all to do with Chris' social media accounts.
Since exiting the villa and taking back control over his Twitter and Instagram, Chris was spotted re-tweeting a pretty punchy message from an ex-Islander.
Alex Bowen from 2016 tweeted, "Now go and enjoy your life chris on your ones #loveisland", which seems to have implied that Alex reckons Chris would have more fun solo.
Now go and enjoy your life chris on your ones #loveisland

— Alex Bowen (@ab_bowen07) July 24, 2017
Fans were naturally surprised that Chris retweeted this and we can't help but wonder what Olivia thinks!
Noooooo way Chris actually retweeted this is it all over already?

— BekyFlitch. (@bekyflitch) July 25, 2017
Nooooooot cool

— Leah Bannister (@leeahrebekahh) July 24, 2017
Have Chris and liv split up already?? His mum and dad have a son to be very proud of I was team Chris all the way

— sarahkershaw (@sarahkershaw198) July 25, 2017
As if Chris retweeted this lmaoooo he knows bye Liv

— Siobhan Hall (@siobhankatyhall) July 25, 2017
Yessss She ain't going to stay with him.. wander if she'll end up texting muggy mike

— Hannah Louise (@davies335) July 24, 2017
Since getting back on his accounts, Chris hasn't posted or mentioned his new girlfriend, but has plenty of time for his BFF, Kem.
Remember when Chris got all kinds of emotional over Cash Hughes?