One Of Your Fave Kids From Stranger Things Has Their Own YouTube Channel; There Goes All Our Free Time!
2 February 2017, 14:02 | Updated: 4 December 2017, 11:10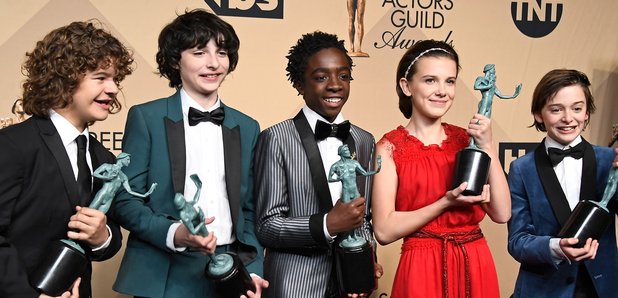 They've just uploaded their first video, and now we wanna be a Stranger Things kid.
WHAT ARE WE MEANT TO DO WITH OUR LIVES?! We've finished the first series of 'Stranger Things', and now we're just counting down the seconds until the release of the second series.
If only there was a cast member out there who'd release his own YouTube channel to fill us in with all of the 'Stranger Things' antics we need. Hint, hint...
Noah Schnapp, who you and I may recognise as Will Byers, has launched his own channel called SchnappTube! WE KNOW, RIGHT?!
The 12-year old actor - who has also appeared in 'The Peanuts Movie' and Tom Hanks' 'Bridge of Spies' - uploaded a video called "SAG AWARDS WEEKEND!", which shows his weekend at the 23rd Screen Actors Guild Awards, which saw 'Stranger Things' walk away with the award for Outstanding Performance by an Ensemble in a Drama Series.
Pic: Getty
From his journey to the Shrine Auditorium in LA, to picking his outfit (and the odd cameo from his 'Stranger Things' cast members), Noah's video had it all.
According to his 'About' page on YouTube, Noah's said he's going to make "tons a different videos, of my life, cool challenges and other stuff you might really enjoy". We suppose this'll do until the next series of 'Stranger Things'.
Your turn now, Millie Bobby Brown.
You May Also Like...