"You Can Count If You Like" Megan McKenna Hits Back At Weird 'Sixth Toe' Rumours
21 February 2017, 12:27 | Updated: 4 December 2017, 11:10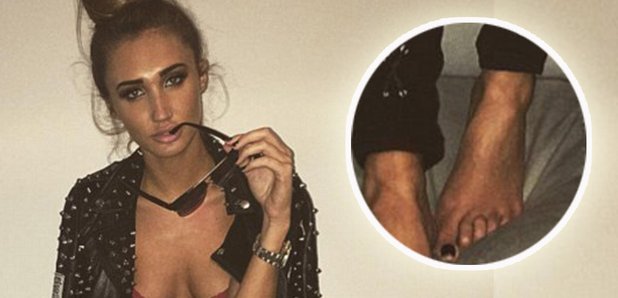 Megan hit back at the bizarre rumours she had an extra digit on her feet!
There are worse things people can accuse you of than having an extra toe, but Megan McKenna didn't take kindly to the suggestion she had six digits on each foot after a dodgy photo emerged – and she wasn't mincing her words!
After she posted a couple of snaps where are weird angle made it look like she had an extra toe, people were quick to question her about her mysterious extra appendage.
Can't believe Megan @Megan_Mckenna_ has 6 toes that's hilarious

— JW (@JackWilky_95) February 20, 2017
I'm toetally confused I'm seeing pictures of Megan McKenna some feet-uring her with 6 toes and some with 5??

— Amb (@AmberLangstonx) February 20, 2017
Think I fancy Megan McKenna even more now I know she's got 6 toes

— lewis (@akidcalledduffy) February 20, 2017
that megan mckenna bird is brave walkin about in heels n that when she has 6 toes. if i had 6 toes id be wearing 4 pairs of socks every day

— tom (@TommCrook) February 20, 2017
@Megan_Mckenna_ has had an absolute shocker on social media today 6 toes and carrying about empty designer bags

— Michelle Steel (@MichelleSteelx) February 21, 2017
@Megan_Mckenna_ @misspapcouk what's up with your 6 toes then

— OG (@oligraham9) February 19, 2017
I need an explanation as to why Megan McKenna has 6 toes hahahahahaha

— Sophie Marshall (@sophsssxx) February 20, 2017
Finally someone I can relate to with having 6 toes!!!!!! @Megan_Mckenna_ I thought I was the only one x

— Sam Fowler (@_samfowler) February 20, 2017
@Megan_Mckenna_ oi can you please explain how you've got 6 toes? pic.twitter.com/G2lAItKC0G

— IAMMIGGZ (@MarvellousMiggz) February 20, 2017
However, it looks like it was just a trick of the angle and the light as Megan took to Twitter to dispel the rumours with a photo and video of her perfectly pedicured tootsies.
February 20, 2017
#Toegate pic.twitter.com/5ovIeyu3i4

— Megan McKenna (@Megan_Mckenna_) February 20, 2017
Well, that's the most random rumour of the week cleared up then, y'know, in case any of you were losing sleep over a TOWIE cast member's toes.... but it's not the only thing Megan's been ripped on Twitter for in the past day or two.
Fans also spotted that the designer bags she and her pals were carrying for TOWIE filming after they had been 'shopping' were actually empty bags after they appeared in the background of another photo on her instagram all stacked inside one another. D'oh!
Here's the 'shopping' photo....
And here are the empty designer bags...
Well, that's awkward!
Keep it Capital tonight to catch Katy Perry on the Capital Evening Show with Roman Kemp - and you can listen live by downloading the Capital App
right here!