People Are Worried About YouTuber Marina Joyce Again After This Bizarre Facebook Post
9 August 2016, 17:39 | Updated: 4 December 2017, 11:10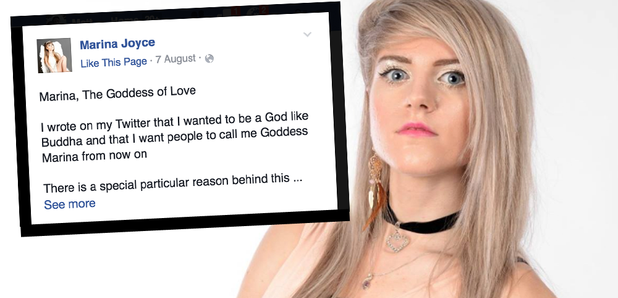 The YouTube star has caused a lot of concern for her fans in the last few weeks...
#SaveMarinaJoyce was recently trending worldwide on Twitter.
Fans were concerned about her eratic behaviour and there were a number of rumours that she'd been kidnapped and was being forced to make videos against her will.
It was all cleared up when she shared a live broadcast explaining that it was all a publicity stunt by her viewers.
But after a new Facebook post emerged from the star, people are worried once more.
The lengthy message was shared on Marina's official page and begins with the words 'Marina, The Goddess of Love'.
Marina, The Goddess of Love
By this I mean I am a Soul Entity bound to you by how much I love you in my heart pic.twitter.com/460dxWTH5D

— Marina Rose Joyce (@MarinaJoyce7) August 7, 2016
She had previously sent a tweet with the exact same phrase, but the Facebook post goes into a lot more detail.
Marina explains, "I wrote on my Twitter that I wanted to be a God like Buddha and that I want people to call me Goddess Marina from now on. There is a special particular reason behind this."
Telling her followers that she wants to build a temple and shrine in Peru, Marina wrote that she wants to bring people "closer to Spiritual After-life Gods which can help them to produce magic to do incredible things."
Considering that her YouTube channel is fashion focussed and that she's never mentioned anything about building a temple in Peru or contacting humans during the afterlife before, it's a little curious.
The most concerning thing is that Marina is actually asking her followers to provide ideas about how she can build this temple and what they think are the best ways for her to move forward with the project.
So if it's all a big prank then she's taken it quite far.
Fans have responded with some serious concern about her mental health too...
So what do you make of this latest development in the saga of Marina Joyce?
You may also like...