One Make Up Artist Has Shut Down Her Twitter Followers After They Started Trolling Her Over How Much She Charges
8 March 2017, 15:51 | Updated: 4 December 2017, 11:10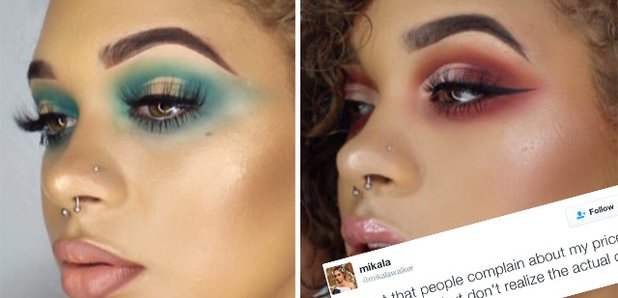 She clapped back.
Does anyone ever consider how much money goes into a make-up artists kit?
They turn up to our house or we head to the beauty salon, we get our make-up done, and that's kind of it.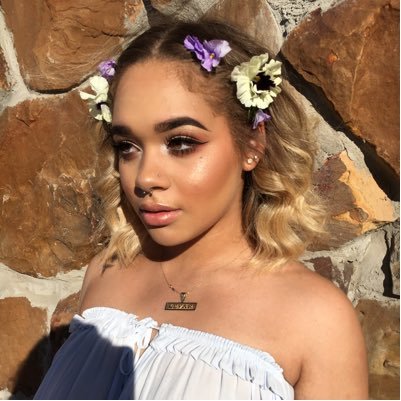 But, one make-up artist is facing backlash on Twitter over how much she charges and she's clapped back in the best way possible.
Mikala Walker began practising make-up artistry at about the age of 12. She began doing her friends' faces for free and then moved on to charging $20 per person. Still fairly reasonable if you ask us.
However, Mikala is now so experienced that she has upped her price to $75 for prom and bridal bookings, which, FYI, is still totally fine given how much some people charge.
Turns out though that not everyone is happy with that because despite her incredible skills and her 47,000 strong Instagram following, people are complaining that it's too much.
One Twitter user wrote, "That's BS", whilst another commented, "I know way better MUAs that charge half your price". Alright, alright, chill out.
@mikalawalker damn 75 that's bs

— Joe Thompson (@Joe_Thompson81) March 4, 2017
So what you're saying is that you use an entire bottle of foundation and a whole pot of dipbrow on ONE client??? @mikalawalker https://t.co/3PGsXL7Wj7

— SuephoriaBeauty (@suephoria55) March 8, 2017
The price is pretty ridiculous for the quality of your work. I'm sorry I know way better MUAS that charge half your price. https://t.co/BJU1f0Iiin

— blanca. (@bbdeleon__) March 2, 2017
Mikala was not just going to sit back and take this abuse though. Instead, she added up the total price of all her make-up kit that she uses for your 'standard' face.
In an epic tweet that is now going viral, she's defended her worth and shown that her average kit adds up to a massive £635.
The fact that people complain about my price of $75 for full face but don't realize the actual cost behind it pic.twitter.com/tZHBRMMYSw

— mikala (@mikalawalker) March 2, 2017
With a kit including cosmetics, brushes and tools, we're not surprised that she's racked up such a hefty bill - and that she has to charge $75 per customer.
She then commented that "to be a female entrepreneur means that I am showing the world that females are capable of accomplishing whatever they'd like to do and being able to do what you love with a passion is possible. I'd love to let people know that this is the generation of change, and that women can do whatever they set their mind to without regards to social limitations".
YES GIRL.
Fans were quick to bat her back down though and we wish everyone would just stop.
@mikalawalker but you're not like putting an entire bottle of foundation or whatever on your face LOL

— Jenny Chan (@jennykchan) March 4, 2017
@mikalawalker but you don't use the whole entire foundation and what not on their face.

— Jennizzle (@JenniferZarry) March 7, 2017
@mikalawalker all that stuff only does one face ?!?......... yeah, right !!!!
.

— Robert Bates (@MasterRasta) March 7, 2017
You May Also Like...