Made In Chelsea Season 13 - Here's Everything You Need To Know About The New Cast & Storylines
20 March 2017, 15:17 | Updated: 4 December 2017, 11:10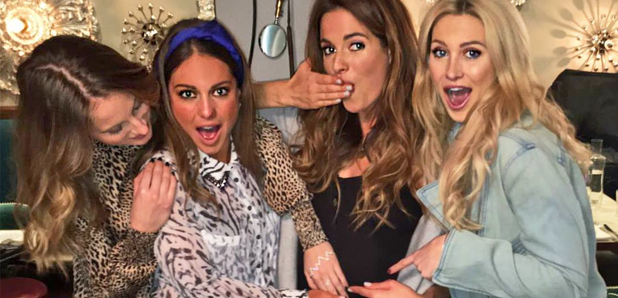 MIC is back with a bump and we can't wait!
Yes, it's that time again where we get excited about another series of the ever so posh Made In Chelsea and the latest series has got us all kinds of hyped!
Not only is there brand new cast members to feast your eyes and ears upon, but there's also newly pregnant Binky to enjoy - what more could we ask for?
Well here's everything we know about the new season so far...
The Launch Date
Monday 20th March at 9pm. We've got our alarms set!
The Trailer
The Cast
Well firstly, Jess Woodley has left the show. Having first joined in season 9, Jess has decided that she's had enough and wants to focus on other things.
In a recent interview with Star magazine, Jess explained, "It's been fantastic and has given me the platform I've always wanted, but now I'm focusing on my fashion brand. The door's always open, but I'm working really closely with Rimmel and taking this time to focus on myself. Being on a reality TV show was difficult. It takes a lot of time and is mentally challenging. It's good to reconnect with the real world."
Whilst the rest of the cast from last season will be rejoining the show, we've also got some new posh totty to get to know.
First up is Sam Prince. We know, there's already one Sam in town, but surely there's space for two? New Sam reportedly has a bit of a reputation as a player and sees himself as a king of Kings Road. Could he be set to break some hearts in the upcoming series?
Next we've got Daisy Robins. She's reportedly a party-lover who loves leading a glamourous lifestyle. She is also the granddaughter of D'Arcy Defries, who is the person credited with setting up women's polo in the UK back in the 1930's.
James Sandford is our third new face and the Northern Irish former rugby player reportedly already has some ties to the MIC cast. It's claimed that he's friends with both JP and Julius.
Will his rumoured macho personality fit in with the other cast members or will it spark off some new rivalries? We can't wait to find out.
Ella Willis is our next newbie and the Edinburgh University student is set to make a big impact on this season. She is alleged to already have her eye on one of the MIC regulars and we're desperate to find out exactly who.
The best fact we've heard about Ella so far is that she's got her own helipad, so it sounds like she'll fit right in with some of the other cast members *cough* Mark Francis *cough*.
Last but not least, our final new cast member is the incredibly named Mimi Bouchard. The Canadian is set to add some flair to the show as reports claim she's looking for an eligible bachelor. Will she find a nice single man in Chelsea? The wait to find out is almost over!
Storylines
Well the main story line that we know is going to dominate the new series is that of Binky and JP's baby.
The pair announced they were expecting their first child earlier in the year, much to the shock of their co-stars and all of us too. They've also revealed the gender of thier unborn child...it's a girl!
In a previous interview, Binky had said, "We haven't confirmed the sex yet. You'll have to watch Made In Chelsea to find out that one! But either way, we're very excited."
Although in a recent chat with OK! Online, the couple revealed that it is indeed a baby girl they're expecting. Explaining what parts of her preganancy will air on the show, Binky revealed, "I won't be showing my noonie giving birth on camera."
"We're not doing the scans - it's a bit more personal I think, but other exciting things we will definitely show. It's exciting, the girls are so excited – and getting broody – and the boys are scared as the girls are getting broody!"
In another part of the show, Alex Myton's off-screen GF Lottie Moss will not be featuring in the show and Alex has revealed that he will be a shoulder to cry on for the rest of the cast members, rather than the ladies man we've known him as previously.
Jamie and Proudlock are going to continue their bromance, with the pair getting closer than ever (not like that), whilst the newest members of the cast are about to create some serious drama.
Sam and one of the new ladies are set to reveal that they have a bit of a past and it all comes to a head in some arguments with Tiff - whilst Sam's sister Louise has a few problems to deal with herself as one of the new chaps on the Chelsea scene appears to threaten her relationship with BF Ryan.
We literally cannot wait for this to start!
You may also like...