Love Island Fans Are Worried That Marcel Has Been Replaced By An Imposter
17 July 2017, 17:30 | Updated: 4 December 2017, 11:10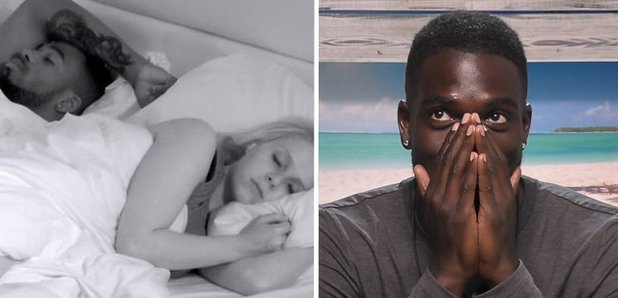 We love a conspiracy theory.
Love Island viewers were slightly confused and concerned when they thought that Marcel had been replaced by a mystery man.
The camera had panned over the couples as they got into bed to go to sleep and when it reached Marcel and Gabby, that's when confusion struck.
> Love Island 2016's Olivia Goes To Town On 2017 Liv As She Thinks "Chris Is The Only Reason She's Still In There" Viewers soon noticed that the person in bed looked nothing like the Blazin' Squad lad and insisted that it must have been an imposter.
Who's this imposter ??? Where's Marcel gone ??? #LoveIsland pic.twitter.com/VvaoxwQxdy

— Angela Edgar (@AngelaEdgar) July 16, 2017
Marcel has been replaced by an imposter. Pls can the real marcel come back. This is not real #loveisland

— Sanam Iqbal (@sanaaamm) June 30, 2017
Wait.... that's not Marcel ??? #LoveIsland pic.twitter.com/1lLDkHSroQ

— Scott Morgan (@ScottFMorgan) July 16, 2017
Don't have a clue but it's not marcel!! Look at the beard and the tat on his arm!

— Paris (@paris_trinityx) July 16, 2017
Umm @ITV... where's Marcel?#loveisland pic.twitter.com/W6wx9t5oXf

— Rahh-dee-yah? (@radisali) July 16, 2017
Others had a totally reasonable explanation and reassured other fans that you could see his tattoo.
It's just the Night vision camera, you can see his arm tattoo pic.twitter.com/BXJvyGBIGr

— smol peach (@gxbbybyrne) July 16, 2017
It's his tattoo on his arm it makes it look like a random guys hair

— Ben (@BenRyanY) July 16, 2017
It is his facial hair and his earrings and his eyebrows! pic.twitter.com/MLw263eLEG

— eve (@evebennettx) July 16, 2017
Not going to lie, is it not a bit far fetched to think ITV2 would put an imposter in the villa?
Remember when the Islanders had to play sexy beer pong?