Love Island's Cally Jane Beech Pours Her Heart Out After Luis Morrison Shuts Down Cheating Rumours
31 July 2017, 11:12 | Updated: 4 December 2017, 11:10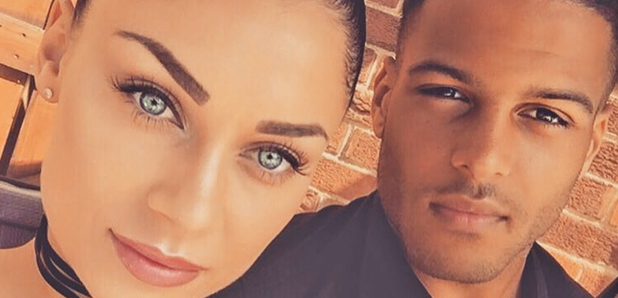 The couple split shortly after the birth of their first child.
After welcoming their daughter Vienna to the world only two months ago, Love Island series one stars Cally Jane Beech and Luis Morrison split up, but no one really knew why.
However the pair have now issued seperate statements on Twitter and shared all the details about exactly why they're no longer a couple.
> Love Island's Jess & Dom Just Got Matching Tattoos But Fans Really Aren't Impressed With The New Ink
Luis initially posted a cryptic message before later deleting it, claiming that he hadn't cheated on Cally, but that he was going to sort his situation out in order to try and win her back.
He wrote, "Just first of all I'm trying to put things right as I've recently lost myself. There's a lot of stuff in the press that have stating that I've been unfaithful to Cally."
"I"m going to say I haven't been and I'm honestly gutted about it. I'm trying my hardest to get my family and Cally back and put things right. I love her more than the world and people make mistakes, and people say that in life you don't make mistakes then you're lying."
"I'm getting myself together and will sort this certain situation out. I love Cally more than the world and can't wait to put things better for the family. Sorry for letting everyone down, most of all Cally and my family. I swear on the holy bible this won't ever happen again (sic)."
But shortly after Luis posted his statement online, Cally Jane then shared her side of the story with her followers, claiming that Luis had got with another girl after the pair split up.
Cally wrote, "We have gone through a really tough time as a couple for months now due to luis not being himself and the guy that I fell in love with. It went from bad to worse and resulted in us splitting up, shortly after he did get with another girl and that crushed my heart."
"Wether we broke up the week before it makes no difference it was still very hurtful and the luis I know would have never done that. I hope that luis can fix his demons in his life and get himself back on track as he has been very lost and its resulted in a drastic mistake which as hurt everyone around him."
"The relationship just hasn't been great and I miss the old luis we all know."
Maybe at some point if he finds himseld and is the luis I fell in love with again maybe he will have a second chance at his family but right now I'm just concentrating on our daughter and seeing where life takes me. Thanks for your support, cally jane xxx" (sic).
Since their split, Cally has removed all her pictures with Luis on Instagram whilst Luis' account still features a number of the couple. However this all pans out, we hope they can work something out in the best interest of their gorgeous little girl.
Whilst you're here, remind yourself of when Montana revealed the real reason she went on Love Island...
Download The Capital App Now For All The Latest Music News & All The Biggest Hits