Kylie Jenner's Cleft Palate Charity Slammed For Comparing Children To "Halloween Monsters"
19 October 2017, 11:29 | Updated: 4 December 2017, 11:10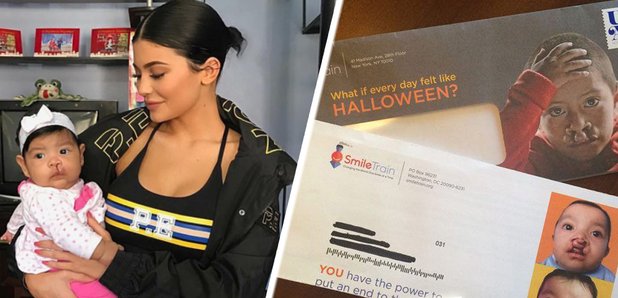 People were shocked at Smile Train's recent mailout.
As well as being a lipgloss entrepreneur, Kylie Jenner is also a proud patron of the cleft palate charity Smile Train, but fnas have been slamming the company for an offensive mailout comparing affected kids to "Halloween monsters".
The letter features an envelope with a phot of a child with a cleft palate accompanied by the message "What if every day felt like Halloween?" and the letter inside reads "You have the power to end their nightmare!".
@Smiletrain saw this on FB, how insensitive & comparing to Halloween is wrong & cruel. Who even allowed this? #halloween #appauling pic.twitter.com/4o6HGCSM0f

— Jen (@JenniBennett5) October 14, 2017
Kristen Carr, a mother of a child with a cleft palate whose family had donated thousands to the charity, posted the shocking message on Facebook, telling her followers, "Every Christmas, we have asked our friends and relatives (and their respective employers) to make donations to SmileTrain in lieu of presents, and they have been extraordinarily generous.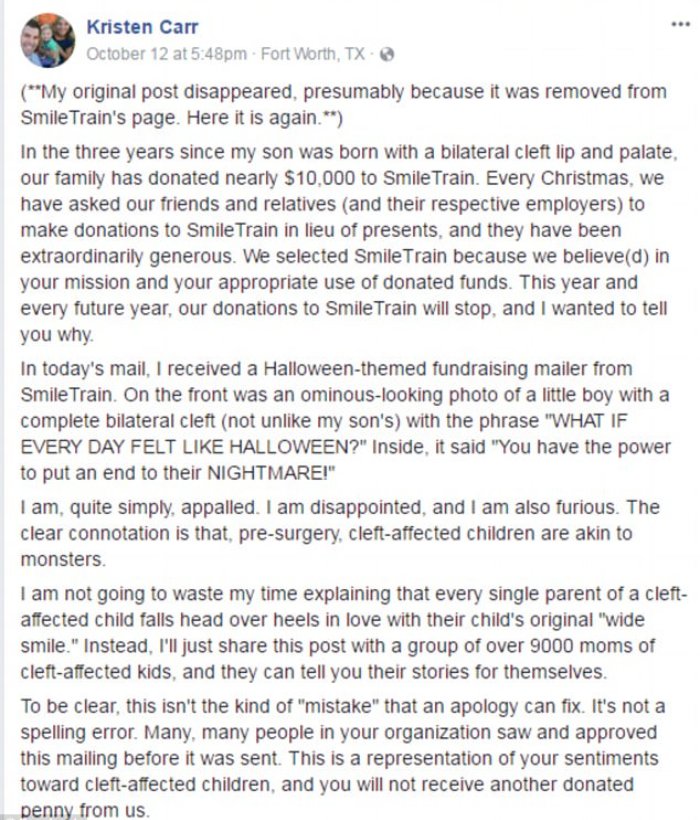 "In today's mail I received a Halloween-themed fundraising mailer from SmileTrain. On the front was an ominous-looking photo of a little boy with a complete bilateral cleft (not unlike my son's) with the phrase 'What if every day felt like Halloween?'.
"I am, quite simply, appalled. I am disappointed and I am also furious. The clear connotation is that, pre-surgery, cleft-affected children are akin to monsters."
People were not impressed with the offensive message, Tweeting:
@kyliecosmetics @KylieJenner I know you give a lot to Smile Train--maybe you could help them see that these mailings are insensitive & cruel pic.twitter.com/pIabNzN1sb

— Lauren McDonough (@LaurenCSands) October 13, 2017
Sickened by @Smiletrain and @SschaeferST perpetuating cleft stigmas. Ignorant and disgusting- not ok.

— Tashina Baer (@TashinaBaer) October 13, 2017
This is completely unacceptable! Wtf was your org thinking??!! Our children are not monsters! Your org is!

— Natalie Rondon (@NatalieRondon1) October 13, 2017
@Smiletrain as the mother of an amazing little boy born with a cleft lip I'm ashamed at your Halloween ad. Get it together. #sadtrain

— Lauren Pratt (@L_Mommmy) October 13, 2017
Hey @Smiletrain your new ad campaign sucks. My son's face isn't "scary" like a Halloween costume.

— Elenr Russell (@eleanoir) October 13, 2017
Disgraceful ad campaign from @Smiletrain.. looks like I don't even have to dress up for Halloween this year I'm already scary enough

— •lucy• (@lucygreen97) October 13, 2017
@Smiletrain WOW. Your halloween mailer is beyond offensive. How did that ever get to leave the building? Surely someone voiced concerns?

— Emma Winter (@emma__winter) October 13, 2017
Now here's a marketing campaign that totally missed the mark. It doesn't align with #CelebrateOurDifferences @Smiletrain pic.twitter.com/7RewFtAtrj

— Cassie Footman MCIPD (@CassieFootman) October 13, 2017
Last year, we were monsters. This year, we are the reason for your nightmares. Thank you, Smile Train.

— Micayla (@Micayla1023) October 14, 2017
Smile Train's CEO responded in a statement reading, "We are truly sorry that the mailing was offensive and hurtful, and we understand the reaction it caused. It was never our intent to adversely depict the very children that we are dedicated to helping. Our intent was solely to help children with cleft lip and/or palate live healthy and happy lives."
Kylie Jenner has often donated parts of the profit from her lip kits to the charity and visited children affected by cleft palates, but has yet to comment on the mailer.