Kylie Jenner's Giving Away The Secrets Of Her Flawless Make-Up – We Need It All, Now.
4 August 2015, 11:14 | Updated: 4 December 2017, 11:10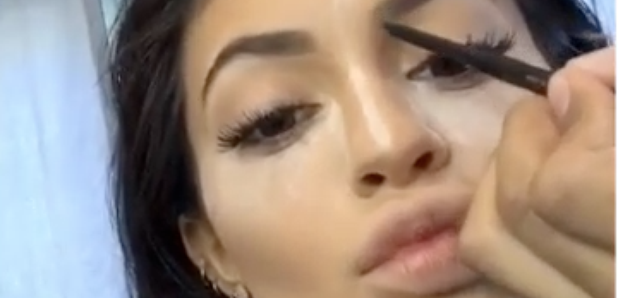 If you're one of the MILLIONS of people obsessed with Kylie Jenner's incredible make up, you're one step closer to having her actual face.
We've ALL seen the photos comparing Kylie Jenner's look from a couple of years ago to now and gasped in amazement at how flawless she has suddenly become – and now she's letting us all in on her secrets.
Kylie seemed to grow up from a beautiful fresh-faced teen to a full blown glamorous grown up goddess in a matter of seconds – and has millions of women worldwide mesmerized with her unbelievably flawless face.
With over 30million followers on Instagram and being one of the most-watched people on Snapchat, Kylie has decided to let the world in on the secrets behind her make-up routine.
Kylie is currently working on her own blog and make up tutorial with her make-up artist Hrush Achyeman, who posted a snap detailing the products she used on Kylie to create one of her stunning looks.
Kylie also teased that there will be tutorial videos coming by posting, "Glam videos coming soon & more fun stuff :)" alongside a photo of her getting her make up done.
Glam videos coming soon & more fun stuff :) pic.twitter.com/Yg2eFPI1JK

— Kylie Jenner (@KylieJenner) August 3, 2015
While she may look ridiculously perfect when she's had her make up done, Kylie isn't afraid to post make up free selfies and videos on Snapchat, looking equally as flawless without the slap. Can we just be you, please?