Fans Reckon THIS Is How The Kardashians Are Going To Confirm Kylie & Khloe's Pregnancies
7 December 2017, 10:27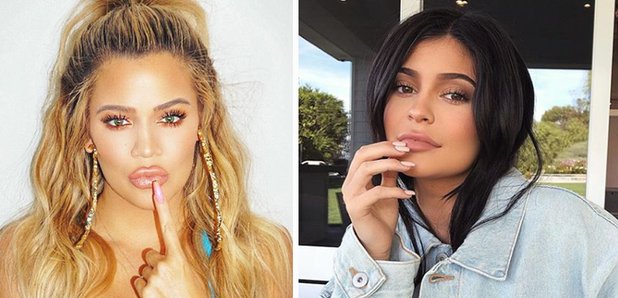 It all makes sense…
The never ending saga that is whether Kylie Jenner and Khloe Kardashian are pregnant or not might be about to reach a conclusion… fans reckon the family are going to announce the pregnancies using their official Christmas card.
For the past few days, Kim Kardashian has been teasing snaps from the photoshoot featuring her kids and Kourtney Kardashian and her children but there has so far been no sign of Kylie or Khloe in the images.
OK, so this isn't definitive proof just yet as Kendall Jenner, Kris Jenner and their grandmother MJ have also not featured in the all-female card just yet but it is a bit weird they are feeding us the card bit by bit this time around.
Kim previously told James Corden on The Late Late Show, "This year's Christmas card is shot really casually - we're kind of in, like, jeans and tee-shirts vibes. Really cute! All the kids…"
Of course fans have been speculating that this will be how they make their big reveal:
I'm calling it now. If @khloekardashian and @KylieJenner are actually pregnant they'll prolly reveal it in the Kardashian/Jenner Christmas card

— Francheska (@frannn2015) December 7, 2017
If the pay off of following the daily unveil of the Kardashian/Jenner Christmas card isn't an announcement of Khloe & Kylie's pregnancies, I want my money back.

— Anne (@annied1120) December 7, 2017
If @KimKardashian's DAY 25 reveal of their Christmas card is Kylie and Khloes baby bumps, that would truly be tip top kardashian please make it happen Kim!!!!!

— Emily (@emuhh_lee) December 7, 2017
why do i feel like Kylie's pregnancy reveal will be in the Kardashian/Jenner advent Christmas "card"?

— noxolo. (@HeidiSibulawa) December 7, 2017
What if the Kardashian's reveal the pregnancies through their Christmas card?

— Mindi Reynolds (@mindireynolds) December 6, 2017
there's no way the kardashian's aren't going to announce the pregnancies in their christmas card i'm calling it now

— Kiersten (@HausOfKiersten) December 6, 2017
I bet you that the #Kardashian last Christmas Card photo is of either @khloekardashian or @KylieJenner revealing the Preganxy or Baby ! That would be cute ! #Kardashian #KylieJenner #KhloeKardashian #pregnancy #baby

— Karah (@momto5sweeties) December 6, 2017
So, what day of the Kardashian Christmas card do we expect to see Kylie with a bump? And Khloe of course?

— JT (@jensmith90) December 6, 2017
sooo I predict that when the final family photo for the Kardashian-Jenner Christmas card is released, Khloe and Kylie's baby bumps will be revealed for the first time.

— cat mom (@lilbabyleen) December 6, 2017
Who else thinks that the day 25 reveal of this extra ass Kardashian Christmas card is going to be confirmation of all the preggo rumors for Kylie/Khloe/Kim?

— Brielle (@BrielleElisa) December 6, 2017
C'mon guys, don't keep us in suspense any longer… we NEED to know if it's true!