KSI & Logan Paul Fans Furious At Cost To Stream The Fight On YouTube
20 July 2018, 16:42 | Updated: 10 August 2018, 16:07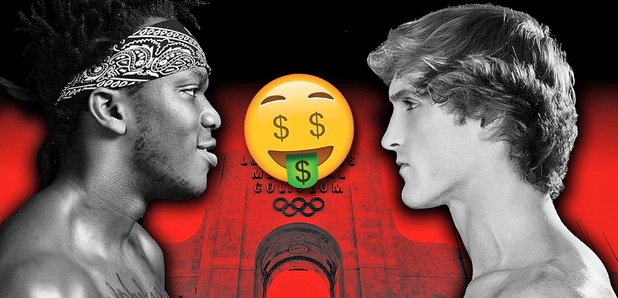 Want to know how to watch the KSI vs Logan Paul fight live? Be prepared to pay for the streaming of the biggest event in YouTube history.
It's being billed as the biggest amateur boxing match of all time and based on the KSI vs Logan Paul London press conference drama recently, it's sure to live up to all expectations.
The KSI vs Logan Paul fight details, including tickets, dates, venue and more have all been released, but how can we watch and stream the fight? Fans have just found out they'll be charged to watch the fight live on YouTube.
> KSI's Gym Routine: The YouTuber's Impressive Transformation Ahead Of His Logan Paul Fight
There have been a number of high profile sporting events streamed for free on YouTube, but the pay per view KSI vs Logan Paul fight will cost viewers £6 to stream live on the video platform.
With millions of viewers expected to tune in for the live event on 25th August 2018 at the Manchester Arena, the fighters look set to rake in a considerable sum of money, but fans aren't happy about being charged the pay per view fee.
Having shared hundreds of videos across the platform on their own channels over the years, KSI and Logan Paul are set to stream the fight live on a new channel called KSIvsLogan.
The pay per view cost, which is currently set at £6, looks set to increase as the description on the YouTube channel hosting the fight reveals that the fee is currently discounted until the end of July.
KSI recently attempted to explain why he and Logan had decided to charge for the fight and he took to Twitter to answer questions...
Just wanted to address those asking why we're charging to see the fight.

The cost of the event itself is on another level to last time. Plus the press conferences, weigh-in and making other content for the new channel, all adds up.

— KSI (@KSIOlajidebt) July 19, 2018
We want to make this as big an experience as possible for everyone watching, without cutting corners.

We're keeping the pay per view price purposely low compared to other events and looking to give as good value as we can.

— KSI (@KSIOlajidebt) July 19, 2018
I'm sure you guys are gonna love watching me slap up Logan, my bro slap up Jake and the other ppv fights. Everything else in the build up is free to view too. Hope this makes things clearer (people will probably still be angry but hey )

— KSI (@KSIOlajidebt) July 19, 2018
Fans voiced their concerns on Twitter shortly afterwards and they were split on the cost of the pay per view fight...
It's an amateur boxing match not professional I don't think people should have to pay to watch a YouTube livestream

— Aiden (@Aiden1_) July 19, 2018
I think people are fine giving you money but putting money in Logan and Jakes pockets isn't exactly what people want to do....

— Dan (@AbsoluteGeezer) July 19, 2018
A little mind blowing people are upset about a small fee, especially the sheer amount of free content everyone involved has given over the years.

Wild!

— Seapeekay (@Seapeekay) July 19, 2018
Your going to make money from views, sales and post fight views too it all adds up stop, yall millionaires don't try to make excuses

— Nayeem (@Nayeem_Ali786) July 19, 2018
If the fight lives up to all the drama that has been building up throughout the last few months, fans will surely be more than happy to pay £6 to see KSI and Logan Paul go head to head, as well as their brothers Deji and Jake Paul.
> Download Our Free App For All The Latest KSI vs Logan Paul News!