Kris Jenner 'Confirms' Kylie & Khloe Are Pregnant With Instagram Pyjama Picture & Fans Can't Cope
22 November 2017, 10:40 | Updated: 4 December 2017, 11:10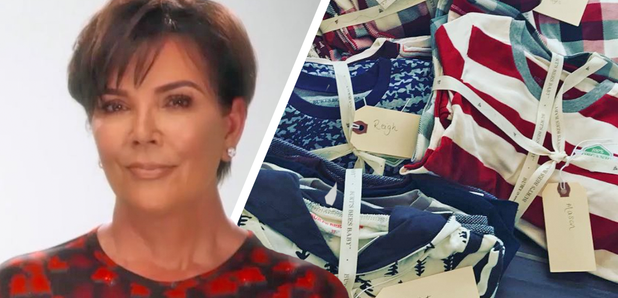 We. Are. Shook.
Kris Jenner has seemingly confirmed that her daughters Kylie and Khloe are pregnant with an Instagram post that has indeed left us totally shook.
Taking to the social media platform, Kris wrote, 'Thank you so much #burtsbeesbaby@burtsbeesbaby#bbbfamjams for the most amazing collection of family jammies ever and i am obsessed with the plaid !!!!! Can't wait to cuddle up with the kids #holidayseason thank you for a collection for every one of my grandchildren #blessed#grateful thanks for the idea @oprah !!'
> The Reason Kylie Jenner's Not Been Pictured Lately Is That She's "Insecure" About Her Pregnancy Body
Whilst the caption alone won't convince you that she's confirming the rumoured pregnancies, the picture she posted alongside it absolutely will...
Yep, as you mathematicians out there will have noticed, there are NINE sets of pyjamas laid out but Kris only has SIX grand children.
So if we take into account the fact that Kim Kardashian is currently expecting a baby via surrogate, that leaves two more unspoken sets of pyjamas.
With seriously strong rumours about both Khloe and Kylie being pregnant, everyone's thinking that Kris is pretty much confirming the whole thing.
Fans took to the comments section to express their shock with one writing '1)Mason 2)Penelope 3)Reign 4)North 5)Saint 6)Dream 7) Kim's on the way 8) Khloe's on the way 9) Kylie's on the way' whilst another added, '9 sets but she only has 6 grandchildren rn soooo 3 more coming??'.
You may also have noticed that the jammies have name tags, but two of the tags are turned so they just read 'Christmas Day Jammies' - now we're really freaked out!
> Download Our Fancy New App For All The Latest Kardashian Baby Chat!
Whilst you're here, check out what happened when Kim Kardashian let slip the gender of her baby...