'Knifeliner' Is The Halloween Make Up Trend You'll Love If You CBA To Dress Up For It
11 October 2016, 11:36 | Updated: 4 December 2017, 11:10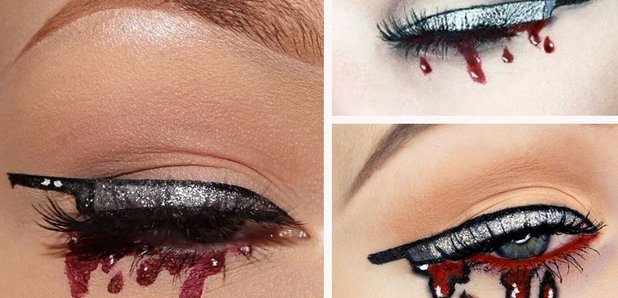 Disclaimer – you'll probably need a pretty steady hand and some art skillz to pull this off.
Halloween is creeping up on us, and if you're one of those people that CBA to go all-out with your costume, there's a scary new make up trend that will ensure you can look the part without dressing up.
Knifeliner might sound terrifying, but thankfully doesn't involve putting sharp objects anywhere near your eyes (Srsly, NEVER do that). In fact, the trend involves drawing tiny knives with your eyeliner and having blood drops under the eyes.
Now, it may look pretty easy but anyone that's ever tried to get their winged liner to match knows this is going to be hella deceptive.
Thankfully, all you need to try the trend is some grey eyeshadow, a black eyeliner and red face paint or fake blood – and a steady hand, obvs.
The 'blade' is drawn on the top of the lid whereas the handle of the knife works as the wing. Then the underside of the eye is decorated with blood drips to make it look like they're coming off the knife. Clever!
It's creepy as hell and perfect for when you've forgotten to buy a costume and it's October 30th and all the good ones are gone. We're going to start practising this, like, now.