Kim Kardashian Gets Dragged For Her Makeup Collection's Limited Shades
18 March 2018, 15:45 | Updated: 18 March 2018, 17:29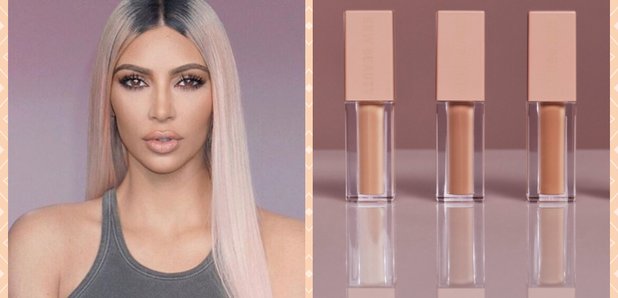 "The model in this ad doesn't even have a colour for them."
It's literally one thing after the other with the Kardashians that we're running out of words for them.
In today's episode of how a Kardashian has p****d people off, Kim's launched a range of concealers that have a very tragic range of colours and people are calling her out for it.
The lack of shades for darker skinned women is so awkward that it barely caters to all the models modelling the product.
16 shades. Concealer Kits available exclusively at https://t.co/32qaKbs5YG on 03.23 at 12pm PST. #KKWBEAUTY #ConcealBakeBrighten pic.twitter.com/VLmXTGb84X

— KKW BEAUTY (@kkwbeauty) 16 March 2018
This is not the first time a member of the family has come under fire for their questionable 'makeup' or clothing line.
Kylie's lip kit's in the past have been lacklustre and Khloe's been accused of stealing people's designs.
Sharing their thoughts on Kim's new concealers, one person tweeted: "10 for white people, 2 for mixed race and 4, for kind of black. Issa fail," while another wrote: "what a wide variety of shades." Not.
what a wide variety of shades pic.twitter.com/b9ROUxUHA6

— emma (@enoelaniallen) 13 March 2018
cause I can see fifty shades of paper for ME but..

— (@savmontreal) 17 March 2018
Using the model to advertise "diversity" but the shades don't match the model is trashhhh.

— Rai (@_Raivyxo) 18 March 2018
Orange is usually a companies REALLY crappy attempt at making deeper tones... https://t.co/keKg56pwNy

— iconic (@Keren_Joy_) 13 March 2018
Meanwhile, the mum-of-three recently revealed that she has a bizarre makeup clause on her will that specifies that even if she's in a state where she's "sh*tting herself" and "can't communicate" her makeup needs to be done.
Speaking to Elle US, she confessed: "I made a section that if I am so out of it that I can't even communicate and I'm, like, sh*tting on myself, I definitely need my hair, my nails and my make-up done."
And if you think we're joking, watch Kim explain the makeup clause in her will herself...