Keith Lemon Wants Craig David To Appear On Celebrity Juice To Publicly End Their 13 Year Feud
16 March 2017, 16:45 | Updated: 4 December 2017, 11:10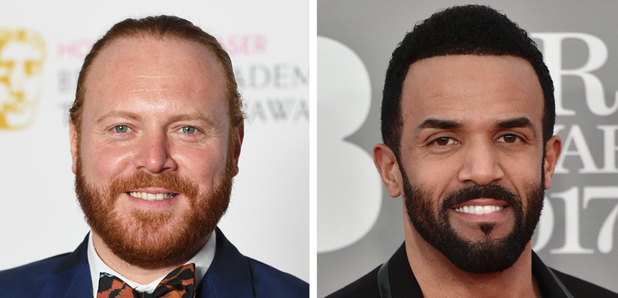 We've wanted to see this for so long!
Back in 2002, Keith Lemon aka Leigh Francis had a very different persona.
Avid Merrion was Francis' superstar character at the time and the popularity of his comedy show Bo Selecta was massive.
The show saw Leigh parody a number of celebs in popular culture at the time and one of his regular characters was Craig David.
@Kite311 Did you have Bo Selecta's Craig David in? pic.twitter.com/DFL9I2aSVB

— Drumbledore (@Torchels) May 11, 2016
Whilst the character was hugely popular, the real Craig David previously claimed that the character hurt and humiliated him.
But it seems like all that could be put to rest pretty soon!
Speaking to Ferne Cotton on Lorraine, Keith said, "You're friends with someone I'd love to come on 'Celebrity Juice', Craig David. I've asked him a couple of times. I think the last time I saw him was at your wedding and said 'will you come on?', and he said 'I've got some music dropping soon'."
Ferne added, "I think he will, I think he's been so busy with his comeback but maybe next year", before Keith exclaimed, "It would be good wouldn't it? I think it would put a lot of things to rest, publicly and we'll have just a great time."
Craig David made a massive comeback in 2016, releasing his superb album 'Following My Intuitions', collaborating with some pretty huge artists and announcing a massive UK tour.
During their interview, Ferne also revealed that Keith and Craig actually made up behind closed doors whilst attending her wedding back in 2014. Talking about the moment they met, Keith said, "Yeah we hugged it out and said it was all banter and stuff. I said 'hey it wasn't even me, it was that other guy Avid Merrion."
Discussing that meeting in a previous interview with The Mirror, Craig explained, "When I walked in, there was all this tension in the room, so I went straight over, and could see Leigh looking nervous about what I was going to say. But I gave him a huge hug, and said: 'I don't know how it's all escalated to this but I just want to say that there are no hard feelings. And everything is so cool'."
So if we could get that public reunion then guys, that would be super awesome!
You may also like...