The Kardashians Went Skiing In Vail But There's One Key Family Member Missing & They're NOT Happy
20 June 2016, 15:25 | Updated: 4 December 2017, 11:10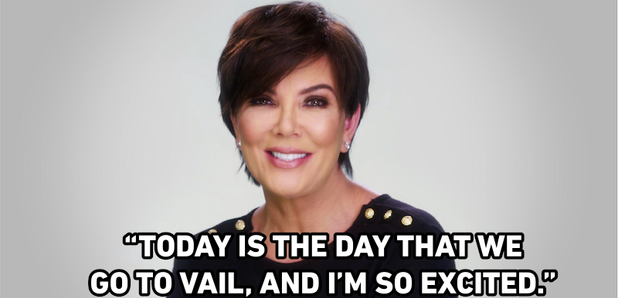 In true Kardashian style, there is always drama.
The next episode of Keeping Up With The Kardashians is shaping up to be a good'un.
Remember those photos of the gang skiing? Yep, it's time to find out about their antics from THAT holiday.
It also happens to be the episode where the sisters find out that Rob has gotten engaged to Blac Chyna and how did they find out? Via social media.
EEEK. As you can imagine, they were NOT impressed.
When Kim, Kourtney and Khloe found out about Rob and Blac's plans to marry, they admitted that it was 'hurtful' for Rob not to tell them.
We tend to agree. Getting engaged is a big deal!
Khloe discussed her feelings and said that "he just keeps doing things to keep this divide between us, which I find disturbing. It's almost like, is someone in his ear giving him all this information that he should stay away from us? I can't handle it".
So much so that they even joke "Who's Rob?".
EEEEK.
Fear not though, it's not all doom and gloom in Kardashian land.
Because, Scott Disick comes face-to-face with Todd Krains.
If you're an avid KUWTK fan, then you'll know that this is an ongoing joke amongst the family that Scott Disick impersonates a guy called Todd and has done for years.
Unluckily for Scott, he now has to spend a skiing trip with the man himself.
Just slightly awkward.
What else happens, we hear you ask?
Well, Kourtney and Tyga also kiss and make up.
No, not literally.
Since Rob has skipped the trip, there is a spare place on the trip so Kylie invites her then boyfriend, Tyga to Vail.
When the rapper arrives at the resort, he wants to sit down with Kourtney to try and clear up any tensions after all his partying with Scott.
Apparently, Tyga feels like Kourtney thinks he is the "bad guy" all the time. Kourtney defends herself and says that she is just hearing a "million stories" about different things.
EEEEK. Not good.
We cannot wait to see the full episode.
You May Also Like...