Fans Rip Love Island's Kady McDermott For Claiming Kim Kardashian Copied Her Palette
28 March 2018, 15:55 | Updated: 16 May 2018, 16:24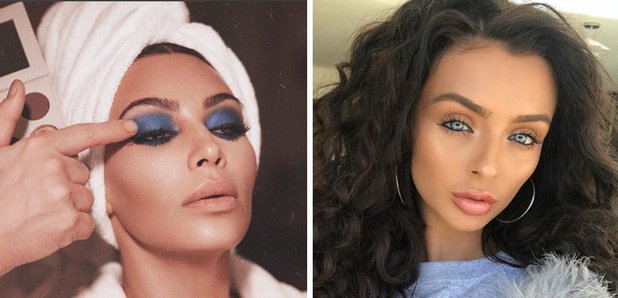 It's a BIT of a reach!
Remember Kady McDermott from Love Island? She's the one that coupled up with Scott Thomas on last year's show and apparently, is Kim Kardashian's make up muse (at least according to her!).
Kim Kardashian Disables Insta Comments After Getting Roasted For Photoshop Fail
Yep, Kady hit out at Kim Kardashian for "copying" her eyeshadow palette… and the internet was having none of it, slating her for thinking the Kim K even knows who she is!
Kady posted a picture of Kim's new palette on her Instagram story telling her fans "When @makeupbymario new eye palette with @kimkardashian @kkwbeauty is almost identical to my @bykady_ mesmerise palette… good taste huns".
March 26, 2018
Fans were quick to lay into the Z-lister for comparing herself to multi-millionaire Kim K:
I'm really confused, they don't look anything alike pic.twitter.com/xhLBKEqBCH

— Liv ;) (@Livvibubs) March 28, 2018
it's soooo funny

— Georgia (@georgialinehan) March 27, 2018
Kadys the Poundland version of Kim's ffs

— Paige scott (@Paigelouiseex7) March 27, 2018
Fully dunno who she thinks she is

— Kat x (@kat_xx1) March 27, 2018
Kadys palette looks so cheap compared to Kim's

— Tayla Beasley (@taylabeasley94) March 27, 2018
Now that's embarrassing

— Alf (@Alfie_Murray) March 28, 2018
Doesn't even look like it n all

— mumfy (@sophiegeorginam) March 27, 2018
Sorry Kady, we're with the fans on this one – Kim and Mario probably didn't copy your colours…