Jamie Dornan Admits He Gets Insecure About His Body. Erm, Hi – Have You Seen Yourself?!
11 February 2015, 11:42 | Updated: 4 December 2017, 11:10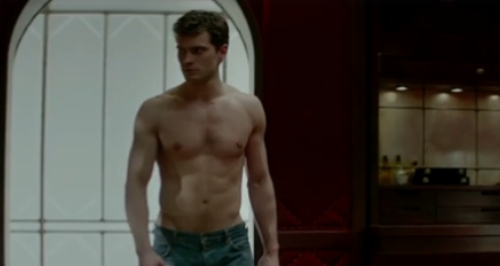 He's a super hotty with the leading role in 50 Shades of Grey, but Jamie Dornan admits that even he has hang ups about his looks.
We're pretty sure Jamie Dornan doesn't own a mirror otherwise he'd be able to see what we all see – that he's absolutely darn drop dead gorgeous!
The 50 Shades of Grey star who took on the role of the infamous Christian Grey admits that even though he gets millions of women breathless, he still gets insecure about his body.
Jamie told the Irish Independent. "I think I am like anyone, I have massive hang-ups about my physical appearance. I was always fighting against stuff when I was a kid. I always felt skinny and small. Now, I'm 32... I have the same insecurities when I was a kid and when I see an image of myself, all I see is this skinny kid and I don't like it."
And despite having to get his kit off multiple times during the film and having millions of adoring women drooling over his fine self, Jamie confessed that it doesn't make it easier to cope with his insecurities.
He revealed, "No matter how many times you get filmed with your top off and the photographers are saying 'Oh, you look great, add more oil', and all that, you have all these things ingrained in your head - insecurities about yourself."
"All the people in the world saying stuff like this isn't going to alter that. I only had four weeks to work out for this role. I would have liked more time. But like I said, I don't think I am ever going to be happy with how I look."
We've seen those trailers, Jamie – you have NOTHING to worry about!
You May Also Like: