We Can All Breathe A Sigh Of Relief! Honey G Is Not Dead Despite This Vicious Online Hoax
10 November 2016, 16:13 | Updated: 4 December 2017, 11:10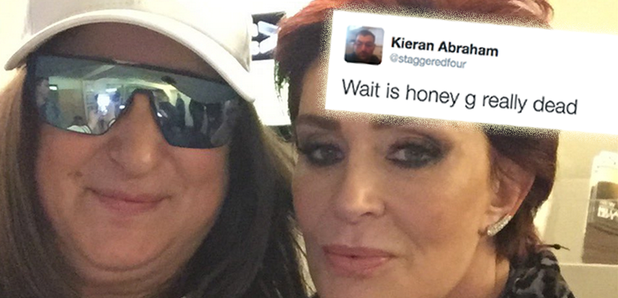 You just can't make this stuff up!
Regardless of whether or not we like a celebrity, no one deserves to have a fake story written about them claiming that they've died.
But sadly that's exactly what happened to current X Factor contestant Honey G.
The North West Londoner has split opinions during her time on the show with many people writing her off as a novelty act, but that didn't stop people beliving a vicious internet hoax that she'd been killed in a gang fight.
The story that was floating around the internet reported that Honey G had been 'gunned down in a bitter rap feud'.
We're not sure if the whole thing was meant as a joke or whether the original writer genuinely belived this to be true, but it confused a lot of people.
In the initial report, an 'eye witness' said, "I saw the blacked out jeep overtaking her car, forcing her driver to stop. Five men in balaclavas got out and began trying to open her door, but then she seemed to open fire on them from the inside, hitting one in the shoulder and another guy in the chest".
"She started shouting 'you East side pansies will never take me alive'. She went at them all guns blazing".
To All my amazing fans, it was an honour to meet Fleur East! @MrsSOsbourne @FleurEast @TheXFactor @TheXFactorUSA @XtraFactorLIVE @XtraFactor pic.twitter.com/tAGkwudPwc

— HONEY G - RAP ARTIST (@The_Honey_G) October 5, 2016
The rest of the report was written in a way that appeared to be suggesting the entire thing was just tongue in cheek, but that didn't stop people actually thinking it was real.
@TheXFactor is honey g dead? @chloe_brady2 told me she was???

— eve (@evegammack) November 9, 2016
Wait is honey g really dead

— Kieran Abraham (@staggeredfour) November 10, 2016
why is my nan trying to tell me that honey g's been shot whilst having a rap battle?? whatttttt

— grace (@gracemessham) November 9, 2016
Honey G has been shot that what I just read?

— Matt&Freddy (@matt_freddie) November 9, 2016
But we can confirm that it isn't real at all.
Honey G is very much alive and well and will be taking to the stage on Saturday ready to wow audiences once again.
You may also like...