Zac Efron Has Been Busy Doing Topless Backflips And Dancing To 'Turn Down For What'
7 July 2014, 10:36 | Updated: 4 December 2017, 11:10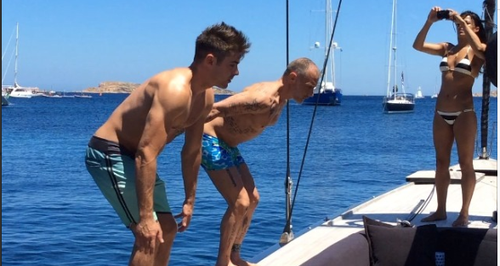 Topless Zac Efron is the best kind of Zac Efron (obvs) – and luckily for us, he's been partaking in a lot of semi-naked antics on his hols…
GRATUITOUS TOPLESS VIDEO OF ZAC EFRON ALERT! (As if we need an excuse!). Zac's been showing off his acrobatic skills by taking part in topless backflips – erm, where was our invite?
Zac's been living the high life on his holidays, and the latest video posted by his pal Gianluca Vacchi shows the pair in Sardinia doing a bit of synchronised diving.
Gianluca is fast becoming our favourite person on Instagram for the sheer volume of Zac Efron videos he provides for our viewing pleasure. As well as sexy sea antics, the boys found time to partake in some rather special dancing to 'Turn Down For What'. We can only imagine they had a bit too much sun that day to bring out THESE dance moves…
This isn't the first time Gianluca has got Zac on camera strutting his stuff, the boys also did a sexy little table dance to Jason Derulo's 'Wiggle' earlier in their holidays.
He also posted another video of topless Zac next to Michelle Rodriguez, who performed some scantily-clad acrobatics of her own. Zac and Michelle have been hanging out together a lot in recent weeks, making the most of the sunchine and great company. More videos like these please, guys!