Uh Oh… Gary Beadle's Smashed Up His £120,000 Bentley In A Three-Car Crash!
19 August 2016, 11:47 | Updated: 4 December 2017, 11:10
It's not been a good night for Gaz…
Geordie Shore's Gaz Beadle is having some pretty rubbish luck lately. First of all he got held in a deportation centre after being banned from entering New Zealand, and now he's smashed up his luxury car!
Gaz spent £120,000 on the white Bentley last year, but the car's looking a LITTLE worse for wear after he managed to get caught up in a three-car pile up on the motorway.
He tweeted after the incident, "Awww for f**ks sake change of plan... 3 cars go into each other and who's the idiot at the back... Tried to swerve didn't happen."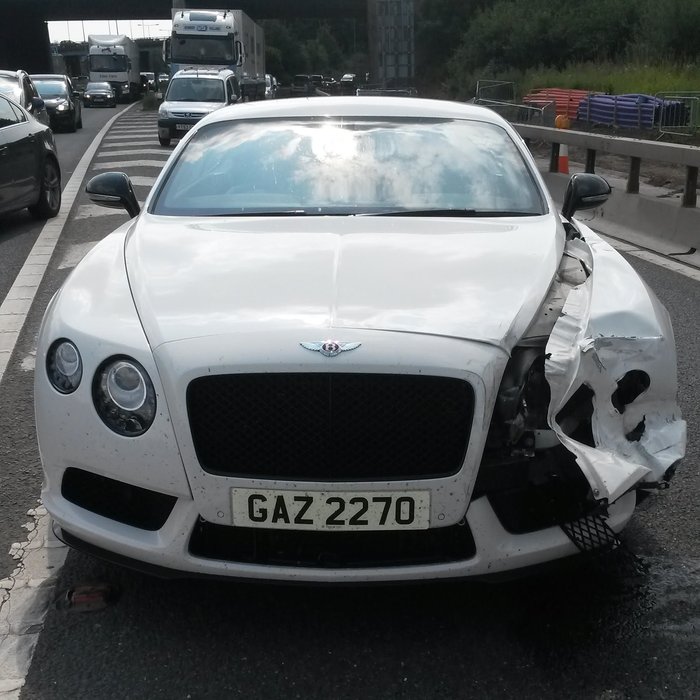 Picture: SWNS
Gaz managed to clip the back of one of the other cars, causing a fair bit of damage to the front of his motor – but he later posted a snap of the rather more modest Volvo courtesy car he's driving around in instead.
Balllllllingggggg in the Volvo pic.twitter.com/V1yDTSOIm0

— GAZ (@GazGShore) August 18, 2016
Well, it could have been a lot worse – it looks like Gaz is pretty lucky after all!