Game Of Thrones Fans Saw A Very Out Of Place Pick-Up Truck During A Battle Scene But There's A Very Logical Explanation
25 August 2017, 15:19 | Updated: 4 December 2017, 11:10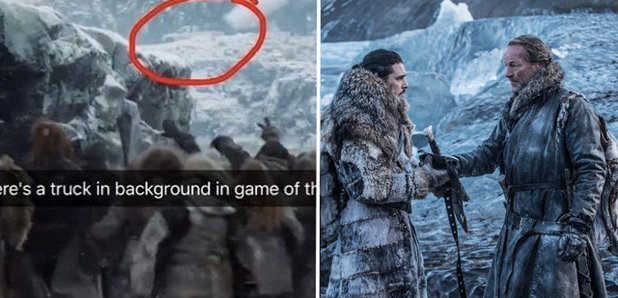 Everyone needs to chill out, okay?
Game of Thrones is known for its epic scenes, bloody battles and confusing storylines… what it isn't known for, however, is blunders when it comes to the props.
However, some fans reckon that the show has fallen victim to being historically inaccurate as they spotted a white pickup truck in the background.
> Game Of Thrones Season 8: What We Know So Far Incl. Release Date, Cast & Trailer
In a Snapchat photo that was uploaded to Imgur, fans claimed that there spotted a truck in the background of a scene. Camouflaged by the snowy mountains, people proceeded to share this image like wildfire.
Sound unlike Game of Thrones? Of course it does.
Showrunners David Benioff and D.B. Weiss are so meticulous with the details that they've created fake scenes to throw paps off and actors get frustrated at having to lie in interviews about upcoming storylines.
They're not exactly going to leave a truck in the background, are they?
The Snap in question, is from a behind the scenes documentary which HBO released after the most recent epic episode.
However, it didn't take long after the Snap was sent for people to start making fun of its inclusion.
They spend millions on production but don't see the truck in the background #GameOfThrones pic.twitter.com/6utvnUpXOZ

— mila (@boranbulbeni) August 24, 2017
Game Of Thrones fans shocked about a truck in the background...you're watching a show wi fuckin Dragons in it. What's more unbelievable?

— Cutch (@Cutch90) August 24, 2017
Did anyone spot the truck in Game of Thrones?#GameOfThrones pic.twitter.com/V8kJlPYX46

— GolfCentralDaily (@golfcentraldoc) August 23, 2017
Pssst. Did you spot the potential Harry Potter reference in the first Game of Thrones episode?