Forbes Have Revealed The Highest Paid Women In Music & The Results Might Surprise You
3 November 2016, 11:39 | Updated: 4 December 2017, 11:10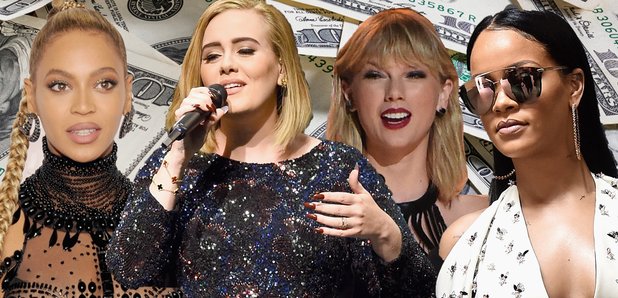 Spoiler alert – the person in the top spot has over DOUBLE Adele's total wealth.
It's always pretty eye-opening when you get to have a look into a celebrity's bank account thanks to the Forbes' Rich List, and the list of Highest Paid Women In Music definitely has some surprises.
Despite having a HUGE year from June 2015 to June 2016 with the release of her brand new album and her world tour, Adele is actually NOT in the top spot… she's been pipped to the post by none other than Taylor Swift!
Tay Tay in fact, earned over double what Adele earned, with a huge $170million fortune compared to Adele's (still INCREDIBLY impressive) $80.5 million.
Despite Adele's huge success, the reason she is in second place is that her income comes solely from record and ticket sales rather than product endorsements and private concert appearances, whereas Taylor has deals with Diet Coke and Apple amongst others.
Surprisingly, Queen Bey is way down in fifth place this year after Madonna and Rihanna, though we still wouldn't say no to having $54million in the bank!
The full list of Forbes' Top 10 Highest Paid Women in Music 2016 is:
Taylor Swift - $170 million
Adele - $80.5 million
Madonna - $76.5 million
Rihanna - $75 million
Beyoncé - $54 million
Katy Perry - $41 million
Jennifer Lopez - $39.5 million
Britney Spears - $30.5 million
9 Shania Twain - $27.5 million
Celine Dion - $27 million