1.5 Million People To Receive Letter From Government Saying 'Stay Home For 12 Weeks'
22 March 2020, 17:35 | Updated: 22 March 2020, 18:06
The government is writing to around 1.5 million people in the UK ordering them to stay inside for at least the next 12 weeks in order to avoid contracting the coronavirus.
> Tap Here For NHS Updates On Coronavirus (COVID-19)
Boris Johnson has outlined the next steps the government is taking to tackle the coronavirus outbreak in his latest daily news briefing from Downing Street.
Communities Secretary Robert Jenrick has announced that 1.5 million people most at risk of being hospitalised due to the virus can expect to receive letters from Tuesday telling them to stay at home for at least the next 12 weeks.
> 5 Ways To Protect Your Mental Health During The Pandemic
The groups includes people with underlying health conditions, certain cancers and transplants.
Mr Jenrick says people who are living with those people will not have to follow the same strict guidelines.
There will be a phone number to ring if those isolating need help getting food or medicine. Mr Jenrick said that there would be food parcels available and this is currently in development, with the first parcels arriving towards the end of next week.
There will be a support system of pharmacists, supermarkets and local authorities coming together to provide assistance to those vulnerable people that the government has written to.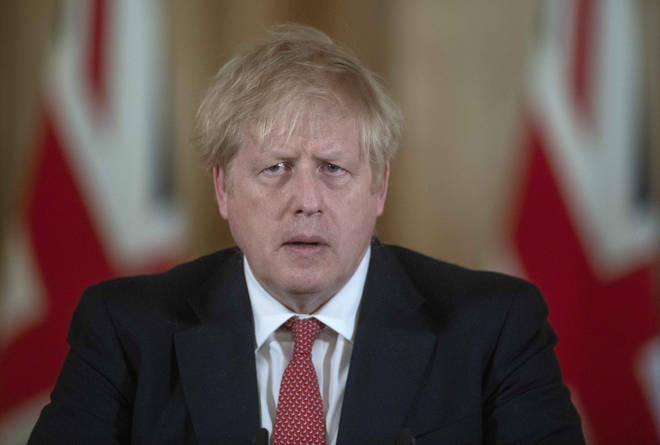 Dr Jenny Harries, deputy chief medical officer for England, was also speaking alongside the prime minister and says it has been a "hugely complex task" to determine and contact the 1.5 million people being asked to stay at home for now.
The number of people who have died from coronavirus in the UK now stands at 281 - a rise of 48 since the last figures were published. There are now 5,683 confirmed cases in the UK - a rise of 665 since Saturday.
> Grab Our App For The Latest News And Videos