Commonwealth Games 2014: 12 Vines That Prove These Boy Band Hunks Should Compete!
31 July 2014, 09:00 | Updated: 4 December 2017, 11:10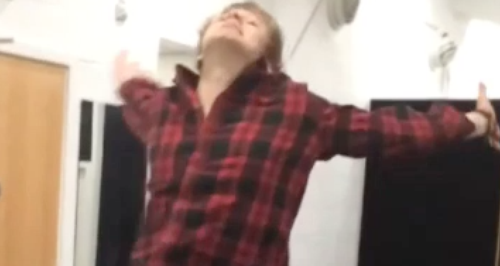 #Glasgow2014 has already got us HOOKED to our TVs, but we can't help thinking that the inclusion of some of our fave pop lads would make it even BETTER...
It's safe to say that the 2014 Commonwealth Games have been pretty incredible so far, with a TON of amazing athletes all gathering in Glasgow to compete for some very shiny medals.
But lately, since our minds are rarely EVER on anything else besides fit pop stars, we've been thinking the likes of One Direction and 5 Seconds of Summer could have DEFINITELY entered too. We mean, just LOOK at all the sports they could have competed in...
1). 5SOS' Luke Hemmings and Rixton's Jake Roche and Charley Bagnall - Long Jump
Considering he's about 12,000 feet tall, 5SOS' Luke Hemmings would have been a PERFECT contender for the long jump!
Rixton's Jake Roche... Not so much.
2). One Direction's Harry Styles - Netball
Just LOOK at those reflexes! Harry Styles was clearly born to play Netball, we're just wondering whether he'd be better as Centre or Wing Attack.
3). One Direction's Niall Horan - Rhythmic Gymnastics!
Yes, that really IS the name of a sport in the Commonwealth Games. Basically, it's all about expression with the help of a few props and we reckon Niall would've taken home gold with this routine!
4). The Vamps' Brad Simpson and Connor Ball - Rugby Sevens
These two look like they could do some SERIOUS damage in the middle of a rugby scrimmage!
5). One Direction's Liam Payne - Boxing
ENOUGH. SAID.
6). 5SOS' Ashton Irwin - Lawn Bowls
Everyone knows Lawn Bowls is just a posh version of bowling, and with those strong drummer's biceps of his, Ashton would totally BOWL away his competition (sorry).
7). One Direction's Louis Tomlinson - Men's Relay
Judging by this rather sassy display, it's probably best Louis didn't sign himself up for the Men's Relay! But still, we'd have LOVED to see him try.
8). The Vamps' Brad Simpson - Hurdles

We're just going to ignore the WAY too small onesies and focus on the fact that Bradders can JUMP!
9). One Direction's Harry Styles - Weightlifting
SOMEONE GIVE HIM ALL THE MEDALS.
10). 5SOS' Calum Hood - Professional kicking... Or something!
OK, so there may not be an EXACT sport that we can categorise this in, but Calum's SERIOUS multi-tasking skills have got us wondering if he's secretly a ninja on the sly. This amount of co-ordination is terrifying.
11.) Rixton's Charley Bagnall - Diving
For no other reason besides he looks LOVELY in that bikini top.